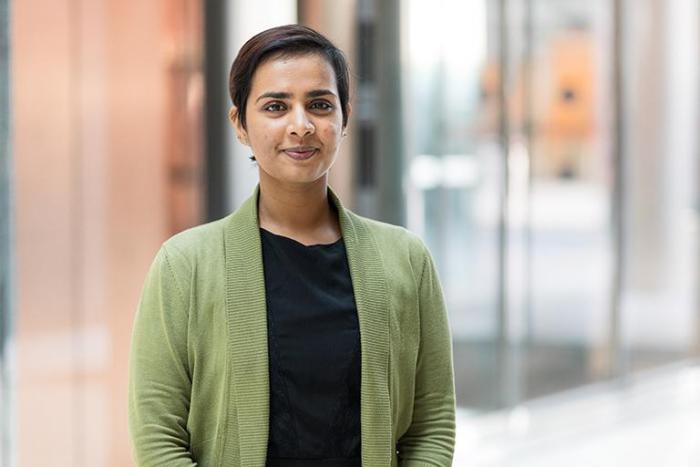 This International Women's Day, Aardra Chandra Mouli, first year MRes/PhD student at The School of Management shares how her experience as a biotech engineer and founder of India's first fully women-owned environmental biotech company led her to embark on her exciting research project at UCL School of Management.
Throughout her career Aardra worked to make science and entrepreneurship accessible to everyone interested in those fields, specifically women. Her areas of research are; gender and entrepreneurship, specifically female entrepreneurship.
How I became interested in female entrepreneurship
I founded India's first fully women-owned environmental biotech start-up. My company, which is active in bio-product development and manufacture, also has an all-female research and production team. This professional experience, combined with a personal and academic interest in female entrepreneurship and its antecedents, motivated me to pursue research into this area.
Topic
Good Fit, Bad Fit: Identifying Antecedents to Gender-Based Differences in Industry Choice of Entrepreneurs
Project Details
My current research interest is to identify the possible antecedents influencing entrepreneurial intentions with regards to the industry choice of female entrepreneurs, in the context of socio-psychological and sociological research perspectives. My study will focus particularly on role-congruity and gender stereotyping. I also aim to identify possible implications (e.g. disparities, penalties or advantages) for support available to entrepreneurs, access to capital, and venture growth.
These issues are particularly relevant in the light of efforts to promote gender parity in entrepreneurship – such as the DIANA International Research Project and the Alison Rose Review of Female Entrepreneurship – and the strong global impetus to focus on equitable financial and developmental growth strategies. On average, ventures that are women-owned or women-led are found to be smaller, more likely to be concentrated in retail or service sectors, with slower growth rates, lower growth targets, and limited access to funding, even though capital is a factor that is both key to venture growth as well as challenging to raise, especially for female entrepreneurs.
Interested in Aardra's research or experience? Find out more on her profile.