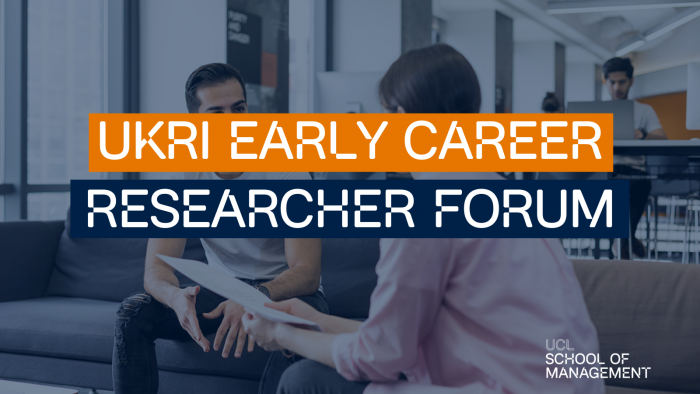 Research Fellows, Lei Liu and Mohamad Sadri, both members of the Strategy and Entrepreneurship research group, have been selected to join the UK Research Innovation's (UKRI) newly-created Forum for Early Career Researchers.
This is a fantastic achievement for both Lei and Mohamad, and the School, as our talented researchers will represent UCL School of Management in this newly-created national forum for all UK-based postdocs and pre-tenure faculty and researchers.
The UKRI Early Career Researcher Forum (ECR forum) aims to give researchers a voice in UKRI's strategy, policy development and decision making, connect the diverse communities within UKRI and build a community to benefit from peer interactions, learning and support opportunities.
Upon receiving the news, Lei said: "I am very excited and honoured to be selected for the forum. This forum provides me with a wonderful opportunity to get my voice heard by UKRI and contribute to a wider research community. I am most excited by the various engagement opportunities. Together with other young researchers, we will collectively shape the UKRI's policy development."
As a new member of the UCL School of Management team, Mohamad said: "I am very excited about this unique opportunity. I am also very happy that I am one of the representatives of the school I have recently joined. It makes me feel more attachment to the school."
The UKRI is launching the forum following the publication of its action plan for the Concordat to Support the Career Development of Researchers, which commits the UKRI to give greater representation to early career researchers. Lei and Mohamad will be involved in focus groups to provide their perspectives on research-related topics such as UKRI's strategy and decision making. As the umbrella funding body for all research grants in the UK, they will be involved in shaping how UK research and funding will develop in the current climate.
This exciting opportunity will also benefit them as researchers. Mohamad said: "The knowledge shared in the meetings will enable me to be the voice of junior researchers in other contexts (e.g., in other European countries). Also, the interactions developed with other scholars will expand the network of my future research and teaching collaborations."
The forum provides a great platform for Lei and Mohamad to connect with and learn from other young researchers with whom they share similar research interests and will support their own research development careers.
Read more about the UKRI Early Researcher Forum.