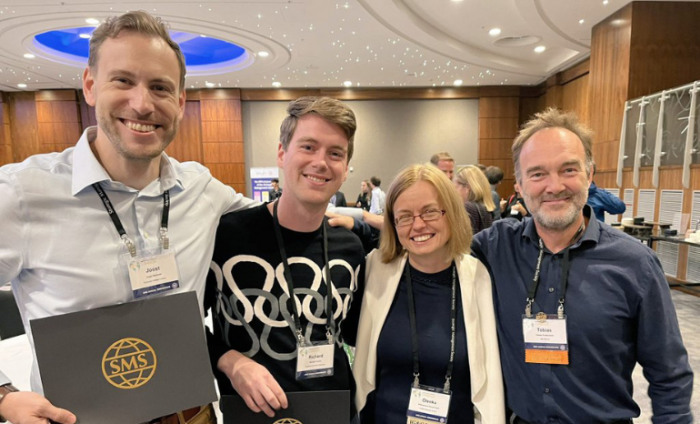 UCL School of Management Professor Joost Rietveld has received an award from the Strategic Management Society's Competitive Strategy Interest Group (CSIG). Together with Richard Haas, an Assistant Professor from the Rotterdam School of Management, Joost received the Best Proposal Award for Creativity in Research for their proposal entitled, 'Too close to the sun? Antecedents and implications of being compared to exemplars'.
Serving 3,000 members from approximately 80 countries, the Strategic Management Society (SMS) is a professional association dedicated to the teaching, consulting, research and practice of the field of strategic management, and focuses on developing and showcasing innovative insights on the strategic management process. A subcommunity within the SMS, the Competitive Strategy Interest Group highlights the questions concerning firms and their interactions with the external environment, and can include discussions on an array of pressing issues, such as identifying competitive advantages in an everchanging world and recognising the ways in which businesses interact with one another.
Delving into the world of information intermediaries, Joost and Richard's award-winning paper proposal explores the ways in which these intermediaries, such as expert critics, often draw comparisons to prior products, which tend to be top of the range items. While similarity to these products can help consumers better "place" a focal product in terms of its relevant features and style, the comparisons can ultimately lead to negative evaluations for the focal product that is currently undergoing review.
Addressing the importance of these findings, Joost notes that it is often assumed that firms should position their products closely to exemplars as this may afford co-opting some of their inherent legitimacy. The findings of his research, however, suggest otherwise; products that position themselves close to exemplars are at greater risk of being evaluated negatively—they fly too close to the sun.
Discussing his award, Joost told us, "The award came very much as a surprise. I learned about it after returning from my vacation in Portugal. I wasn't even aware we were one of the finalists! My co-author Richard Haans and I are very excited about this project—we believe our findings hold important implications—so it's great to get some recognition for it."
Find out more about the SMS Best Proposal Awards