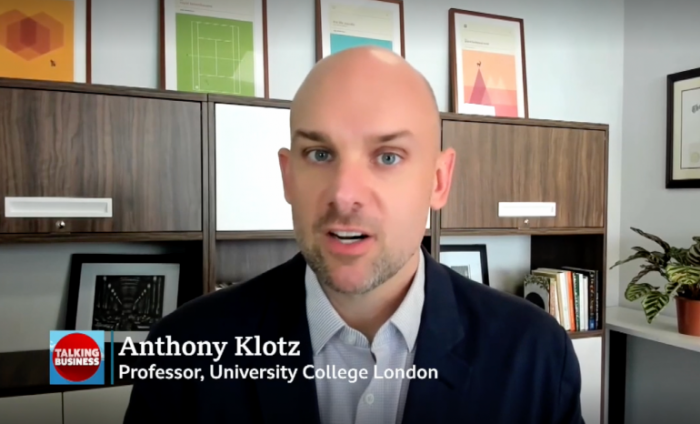 UCL School of Management's Associate Professor Anthony Klotz has recently appeared on the BBC show Talking Business to discuss the phenomenon known as 'quiet-quitting', as well as 'The Great Resignation', a term he coined himself as a direct result of the mass resignations that are happening in companies and industries across the globe.
Discussing key and topical issues in business and economics, Talking Business is a weekly show that welcomes discussions from corporate leaders, global investors, leading intellectuals and prominent entrepreneurs. This week, Anthony sat down with Talking Business host Aaron Heslehurst to discuss two pressing topics of the moment: 'The Great Resignation' and 'quiet-quitting'. Discussing the former, Anthony attributes this mass professional exit to numerous factors, including dissatisfaction with pay, as well as an overall "disenchantment with the world of work".
During the pandemic, Anthony claims that employees had the time to reflect on the prominence of work in their lives and decided that "work was taking a little bit more than it was giving back." However, in instances where employees are unable to formally resign from their role, Anthony acknowledges that they may alternatively decide to perform only the duties in their job description and no longer go above and beyond, a phenomenon known as 'quiet-quitting'. With 4.6 million views, the trend even has its own hashtag on TikTok and slows no signs of slowing down.
Watch the full episode of Talking Business