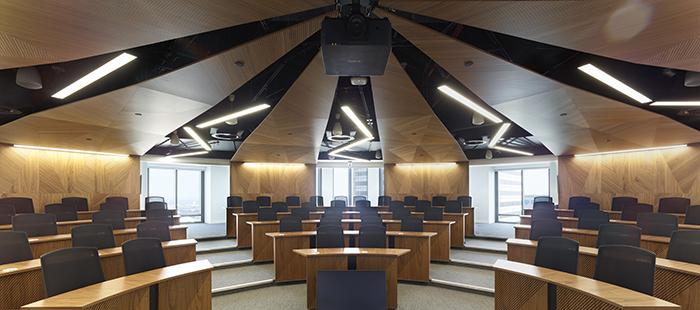 The UCL School of Management has announced that it has expanded its premises to now include a new space on the 38th floor of the iconic One Canada Square, Canary Wharf in London.
The space has been designed specifically to enhance the School's ability to create disruptive research and entrepreneurial leaders for the complex, interconnected world of the future.
The School's strategic location on Level 38 of One Canada Square places it at the heart of London's financial and business centre, giving students and staff unique access to a wide variety of leading innovators, thought leaders and businesses, including Level39, Europe's largest fintech accelerator on the floor above.
Designed by leading architects Levitt Bernstein in collaboration with UCL Estates as part of the Transforming UCL programme and the School's director Professor Bert De Reyck, the space takes cues from startups and tech companies, known for fostering innovative working environments.
The expansion will attract academic talent from across the world and will also help the School provide world-class facilities that correspond with the quality of its teaching and research.
Bert De Reyck, director of UCL School of Management, said: "We are a new business school with a new approach, so unlike traditional business schools, we place a unique focus on innovation, technology, analytics, and entrepreneurship. The new premises will further reflect this distinction.
"Being located at the heart of the Canary Wharf business district gives us a clear competitive advantage from which our students and faculty will benefit. We are excited to take this opportunity to develop deep connections with the business community around us, not least the growing fintech scene, which will enhance our ability to produce world-leading research, economic and societal impact and innovative education."
Matthew Goulcher, Managing Director of Levitt Bernstein, said: "One of the most important parts of this brief was designing a space that reflected the unique identity of the UCL School of Management, differentiating it from traditional business schools. The School needed a new space that reflected its new approach, one that married form and content, so consequently the new premises forgoes formality and encourages a culture of openness and collaboration. By using broken geometries across the whole floorplate we've created informal spaces and shared breakout areas which allow for serendipitous meetings between students and faculty, with the aim of sparking unexpected conversations and shared creative thinking."
Sir George Iacobescu CBE, Chairman and Chief Executive Officer of Canary Wharf Group, said: "We are delighted to welcome University College London, one of the world's top-ranked universities, to Canary Wharf. The environment at Canary Wharf will help UCL School of Management attract the brightest postgraduates who will benefit from proximity to world-class business and professional services institutions in a 115,000 strong working community. UCL School of Management students will be able to experience the unique fusion we offer between business and technology with access to business networks, technology corporates, entrepreneurs and innovators from the 200-strong community of startups at Level39. This community now extends to over 80,000 sq ft in the globally recognised One Canada Square. We also hope students will enjoy the one million sq ft of retail and extensive arts and events programmes here at Canary Wharf."
Brand and design consultancy, Studio Blackburn, worked closely with Levitt Bernstein to ensure that the environment on Floor 38 reflected and made best use of the UCL School of Management brand identity.
On one single floor, a full range of university facilities is being provided, including all necessary teaching, research, administrative, social and support facilities. Some key aspects to note include:
● Villages: The floor has been divided into six distinct zones which each serve different aspects of the School's work and have their own unique identities, defined by different colours and textures. These zone are termed as 'villages,' offices and meeting rooms arranged around a central shared space.
● Lecture theatres: There are two state of the art lecture theatres, one in the northeast and one in the southeast corner of the 38th floor, with capacities of 70 and 85, respectively. Both are Harvard-style, with seats in an intimate semi-circular and tiered format. This shape ensures that all students are close to the lecturer allowing for a more immersive educational experience, as well as creating a more informal environment encouraging discussion.
● Student hub: A hub space welcomes visitors on arrival and features an informal seating area, where students can meet away from the villages. This area is ready for 'touchdown' working, where students can sit and work when they want.
● The views: The entrances to each of the villages are open, allowing glimpses both into the spaces but also views of the London skyline beyond. Being situated on 38th floor provides stunning views of the capital. These views have been deliberately considered in the design, with visitors able to orientate themselves around the different zones using their different identities and views as signposts.
From September 2016 on, the new premises in Canary Wharf will be the new home for the School's postgraduate programmes, and also the School's research activities. Undergraduate degrees will remain at the iconic UCL Bloomsbury campus, giving all students and staff the benefits offered by both locations.
Amongst the courses which will be taught in the Canary Wharf premises are the MSc Management, the School's most popular programme, the MSc Technology Entrepreneurship programme and the brand-new MSc Business Analytics and MSc Finance programmes.
ENDS
Contact:
Kit Cockburn | kit.cockburn@commonindustry.co.uk | +44 7989 173 979
Rose Marshall | rose.marshall@levittbernstein.co.uk | +44 7908 590629
Notes to editors:
About UCL School of Management
The UCL School of Management is the business school of UCL (University College London), with premises in Canary Wharf and Bloomsbury, London. Launched in August 2015, the School is a new kind of business school that produces disruptive research and creates entrepreneurial leaders for the complex, interconnected world of the future.
The School offers undergraduate, postgraduate, PhD and executive programmes in management, finance, entrepreneurship, information management for business, management science, and business analytics.
The programmes, taught by world-class academics, incorporate learning activities and industrial experiences that will help develop commercial competencies, internal organisational management skills, and a high degree of creativity, preparing scientists, engineers, physicians, and other innovators for leadership roles in the next generation of technology-intensive organisations, as well as in finance and consulting firms.
About Transforming UCL
The new space is part of Transforming UCL - the largest capital programme in UCL's history which will see a substantial investment of over £1.2 billion over the next 10 years. Transforming UCL will create new sustainable spaces that meet the university's world-class aspirations and commitment to excellence and innovation.
The programme involves the refurbishment and development of some of UCL's most iconic buildings whilst also bringing forward new world class buildings such as One Canada Square, Canary Wharf. The programme will help to facilitate and support the University's continued growth by delivering an estate capable of delivering a truly exceptional student experience.
https://www.ucl.ac.uk/transforming-ucl
About Levitt Bernstein
Levitt Bernstein is a practice of architects, urban designers and landscape architects with over 100 staff working from design studios in London and Manchester. We believe that good design can transform lives and apply this principle to our education, arts, commercial, health and housing projects of all shapes and sizes across the country.
http://www.levittbernstein.co.uk/
About Canary Wharf
Canary Wharf provides a modern and progressive working environment which is 25 years in the making and now houses a working population of over 115,000 people. With a minimum of 11m sq ft of future development in the pipeline, the Estate has the potential to grow to over 200,000 people in the next 10 to 15 years. The current Estate comprises 100 acres which includes more than 30 acres of landscaped public spaces, 17 m sq ft of commercial space including around 1 m sq ft of fully let shops, bars, restaurants and eateries. It is also home to a diverse range of occupiers on leases with more than an average of 14 years to run of which only around 55% are in the financial services sector.
About Studio Blackburn
Established in 2011, Studio Blackburn is a Brand Design consultancy based in London that works everywhere. Its aim is to produce creative work that is beautiful, effective and pragmatic as well as fit for purpose in our rapidly evolving digital world.
The business places great value on democratic working relationships. It works with risk takers and decision makers, collectively making a significant difference.