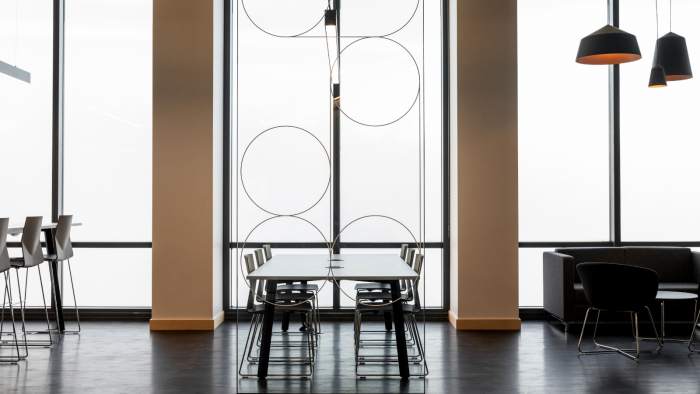 UCL School of Management grows to occupy level 38 & level 50 of One Canada Square and added 12 additional academics in 2020. Rising intake of students benefit from proximity to a wide variety of innovators, thought leaders and businesses at Canary Wharf
UCL announces that it has expanded its School of Management in partnership with Canary Wharf Group (CWG) opening Level 50 of One Canada Square ahead of students and staff returning to campus during term three. Since opening on Level 38 of One Canada Square in 2016, the world-leading UCL School of Management has been consistently oversubscribed and has continued to expand with postgraduate student numbers growing 70% year-on-year throughout 2019/2020 and 2020/2021. This rapid growth has driven the business school to acquire additional learning space on level 50 of One Canada Square. It has also supported the School of Management in employing an additional 12 academics in 2020.
The UCL School of Management offers a distinct approach to business education with undergraduate, postgraduate, executive and PhD programmes focusing on innovation, technology, analytics and entrepreneurship, the four key drivers of the future. Positioned in the heart of Canary Wharf and surrounded by global businesses, fast-growth technology companies and financial institutions, students have unique access to a depth of world-leading organisations.
The new facilities located on level 50 offer a vibrant space that blends traditional education and modern business environments with breath-taking views across London. The expansion includes the creation of a state-of-the-art hybrid lecture theatre that will enable synchronous learning, allowing students to join sessions both remotely and in-person, with space for more than 90 students on site. Additional facilities also include a new executive education suite, flexible spaces to host conferences and large events on-site, along with built-in video pods to allow seamless interaction with students, colleagues and partners around the world.
Bert De Reyck, Director of the UCL School of Management, said: "We bring a new approach to business education and research, and unlike more traditional business schools, we place a unique focus on innovation, technology, analytics and entrepreneurship. We are delighted that our programme portfolio, coupled with our dedication to delivering leading-edge face-to-face and online learning environments, is clearly resonating with students across the world, resulting in our continued and significant growth in student numbers."
"Our location in the Canary Wharf business district gives us a clear competitive advantage from which our students and faculty will continue to benefit. I have no doubt that increasing our presence here will only enhance our ability to produce world-leading research, economic and societal impact, and innovative education for years to come."
Richard Archer, Managing Director Offices, Canary Wharf Group, said: "We are delighted to offer UCL School of Management the modern, flexible environment that it needs to grow its home at Canary Wharf and continue delivering its leading education programmes. Since launching here in 2016, the School has been on an exceptional journey which we've been able to facilitate, now with its occupancy of level 50 at One Canada Square.
"Students at the School benefit from the contemporary infrastructure, networks and connectivity that are uniquely found at Canary Wharf, a 24/7 city to work, live and play."
UCL's newly occupied space has been fitted out by CWG to high ESG standards with 45% of the project expenditure spent with companies based in the London Borough of Tower Hamlets. CWG purchases 100% electricity from renewable sources since 2012 and has sent zero waste to landfill since 2009. The waste materials from the fit out of this project were reused or recycled or donated to local charities. CWG will also be making a £5000 donation to the UCL Hardship fund to welcome them into the new space.
The UCL School of Management is planning to welcome students and staff back to campus during term three of the 2020/21 academic year in line with Government guidance and advice. UCWG has earned the prestigious WELL Health-Safety Rating for its managed buildings including One Canada Square in recognition of the stringent protocols that have been implemented in response to COVID-19.
- ENDS -
Notes to Editors
For UCL School of Management, please contact:
Cameron Finlay T: +44 77935198278, E: cfinlay@fireoth.com
About the UCL School of Management
The UCL School of Management is the business school of University College London, one of the world's leading universities, consistently ranked in the global top 20 for its academic excellence and research. The School offers innovative undergraduate, postgraduate, PhD and executive programmes in Management, Entrepreneurship, Business Analytics, Business Information Systems, and Finance, designed to prepare students for leadership roles in the next generation of innovation-intensive organisations.
About UCL – London's Global University
UCL is a diverse community with the freedom to challenge and think differently.
Our community of more than 41,500 students from 150 countries and over 12,500 staff pursues academic excellence, breaks boundaries and makes a positive impact on real world problems.
We are consistently ranked among the top 10 universities in the world and are one of only a handful of institutions rated as having the strongest academic reputation and the broadest research impact.
We have a progressive and integrated approach to our teaching and research – championing innovation, creativity and cross-disciplinary working. We teach our students how to think, not what to think, and see them as partners, collaborators and contributors.
For almost 200 years, we are proud to have opened higher education to students from a wide range of backgrounds and to change the way we create and share knowledge.
We were the first in England to welcome women to university education and that courageous attitude and disruptive spirit is still alive today. We are UCL.
About Canary Wharf Group
Canary Wharf Group (CWG) is the developer of the largest urban regeneration project in Europe. CWG develops, manages and currently owns interests in approximately 7.5 million square feet of office space, 0.9 million square feet of retail and over 500 Build to Rent apartments.
CWG is the largest sustainable developer in the UK with over 11 million square feet of sustainable certified buildings. CWG also excels operationally as it purchases 100% electricity from renewable sources since 2012 and zero waste to landfill since 2009.
CWG has created a 24/7 city where people can live/work/play on the Canary Wharf estate and enjoy all the benefits: great transport links, access to green spaces and waterside living; and a wide range of amenities including an award-winning arts and events programme. Canary Wharf's retail offering spans across five shopping malls with over 300 shops, including grocery stores, pharmacies, health clubs, bars and restaurants, all within 15 minutes' walk.
The Company's current £2.4bn construction activity is composed of 500k square feet of commercial properties and over 1,750 new homes for sale and for rent.
Website: www.canarywharf.com
Instagram: @canarywharflondon @woodwharf
Twitter: @YourCanaryWharf; @CanaryWharfGrp @Level39CW, @Wood_Wharf
Contact: Lewis Bendall-Craft (Seven Hills)
Phone: +44 7931 873 950