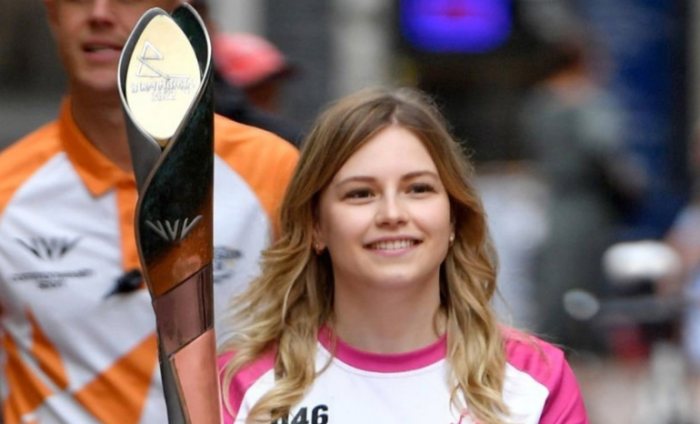 UCL School of Management alumna Slaviana Pavlovich was selected for the Birmingham 2022 Commonwealth Games Queen's Baton Relay. Nominated by JP Morgan Chase & Co. for her outstanding work in the field of digital technology, Slaviana carried the relay through Rugby to mark the momentous occasion.
Part of the Commonwealth Games, the Queen's Baton Relay sees the official Baton on an epic journey across all corners of the Commonwealth. Beginning on 7 October 2021, the Baton started its 294-day journey across 90,000 miles and 72 Commonwealth nations and territories, before concluding its journey in Birmingham, UK, to mark the beginning of the Games.
Discussing the lead up to her involvement in the Games, Slaviana told us, "After receiving the official letter from the Commonwealth Games committee confirming my selection for the Queen's Baton Relay, I couldn't wait to find out more! What would the uniform be like? Where would my segment be? How long would I be carrying the baton for? Following what felt like significantly longer than 3 weeks of waiting, I eventually got further details on the day: I would be carrying the baton in Rugby for a stretch of 200m. They also sent through my kit for the day well in advance of the event, which I felt was a nice touch.
On the day, crowds of supporters came out to see the baton relay pass through their town, including Mayor Carolyn Watson-Merret, and a very enthusiastic team of volunteers – all of whom helped make the day an amazing experience that I will never forget. I was also fortunate enough to spend time with some of the other baton bearers, who were from a multitude of backgrounds, learning about their lives and their contributions to the UK and the wider world."
Discussing her achievement, Slaviana told us, "I was honoured to be nominated by my employer, JP Morgan and Chase, who were the Official Banking Partner of the Birmingham 2022 Commonwealth Games. Participating in the Queen's Baton Relay was the opportunity of a lifetime for me and I am so grateful to everyone who helped make it possible."
Congratulations to Slaviana on her incredible achievement!