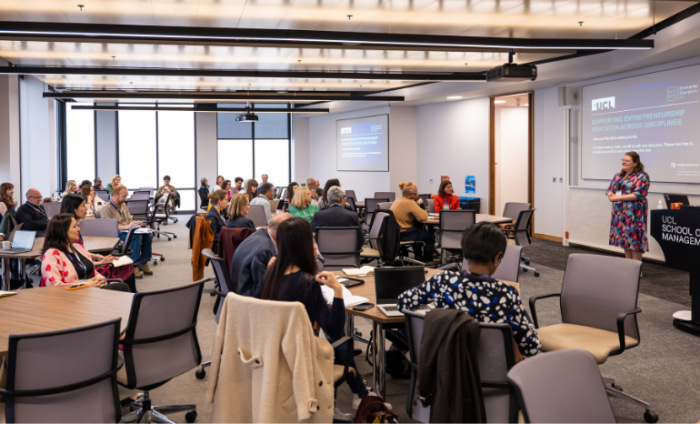 In partnership with Enterprise Educators UK, the UCL Entrepreneurship Community of Practice (ECoP) recently hosted a workshop on Level 50 of One Canada Square focusing on fostering entrepreneurship education across disciplines. The all-day event drew participants from the UK's leading universities. It was specifically designed to support the launch and development of effective ECoP within higher education to promote entrepreneurship education and nurture entrepreneurial mindsets among students and staff.
The UCL School of Management was delighted to welcome representatives from dozens of universities, including the University of Edinburgh, the University of Oxford, Durham University, King's College London and the University of Bristol. Divided into four sessions (Initiate, Engage, Enable and Grow), the workshop began with an overview of the UCL Entrepreneurship Community of Practice, including its history, future plans and the importance of supporting entrepreneurship education across disciplines. Speakers from the University of Edinburgh were also invited to share their own journeys in establishing effective communities of practice in entrepreneurship.
The workshop then delved into the composition of a community of practice and explored strategies for mobilising and empowering different communities within higher education institutions. To build a thriving ECoP, the event speakers noted that members must assess their entrepreneurship ecosystem, including activities and incentives that can bolster the ECoP's development.
As the workshop concluded, UCL ECoP members invited participants to share their key takeaways from the workshop. They also encourage them to consider how their entrepreneurship Communities of Practice can proactively address emerging opportunities within their institutions.
Following the event, Anne Preston and Pierre-Jean (PJ) Hanard remarked: "Today's workshop brought together some of the brightest minds in entrepreneurship education from across the UK. The exchange of ideas and strategies was truly inspiring, and we believe it will pave the way for stronger collaboration and growth among Entrepreneurship Communities of Practice. We are confident that such communities are essential for unlocking the full potential of students and faculty, ultimately driving innovation and fostering positive change throughout higher education and beyond."
For more information about the ECoP, please contact Anne Preston or Pierre-Jean Hanard. Alternatively, if you are a UCL staff member, you can join the ECoP Teams channel to start networking with fellow innovators in entrepreneurship.