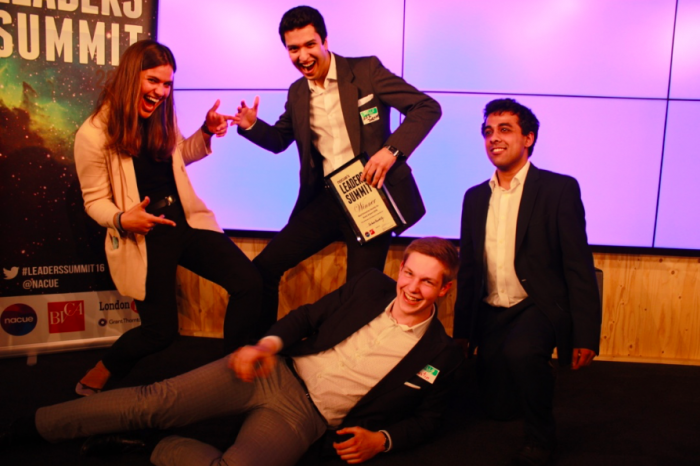 UCL Entrepreneurs have won the NACUE ‪Leaders Summit 2016 Awards as 'Best Enterprise Society' in the UK.
The National Association of College and University Entrepreneurs (NACUE) offer solutions tailored to support students regardless of academic background. They work with a network of over 260 institutional members, enterprise societies, government and corporate partners to deliver opportunities that inspire students and develop their skills.
Eleven finalists had to deliver a four-minute pitch on their society achievements and the impact their society has had on students and enterprise within their universities and cities. This was followed by a three-minute Q&A from a panel of judges. The judging panel included Richard Young, Director of BVCA, Lee Adams, Director at Cantarus, George Bettany, Programme Director and Entrepreneur-in-Residence at Ignite and Hailey Woldt, Global PR Manager at MassChallenge.
Finalists that pitched at the event included:
The Oxford Guild Business Society
Kings College London Business Club
Durham Entrepreneurs Society
Warwick Entrepreneurs Society
Manchester Entrepreneurs Society
The UCL Entrepreneurs Society are being led over the coming year by Vishal Sharma, a MSc Technology Entrepreneurship student. Vishal is committed to fostering entrepreneurship at a grassroots level within UCL and across London. UCL Entrepreneurs have a number of ambitious projects in the pipeline and will be going on a fundraising drive this summer to raise funds for these projects.
Further details can be found on NACUE's website: http://www.nacue.com/leaders-summit-2016-awards/