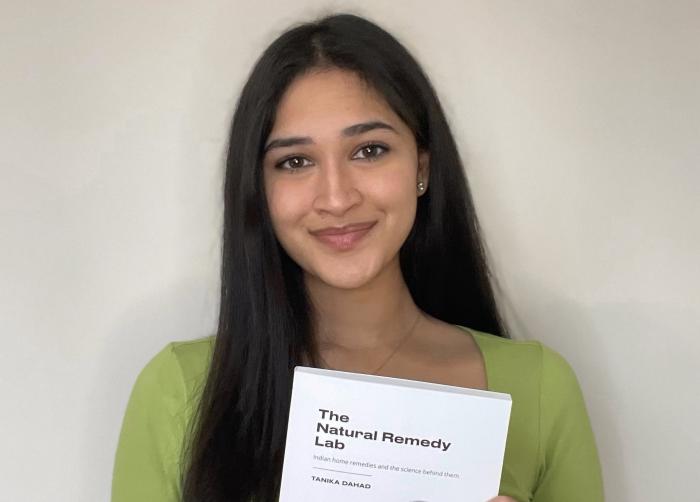 After graduating from the BSc Management Science programme in 2020, Tanika Dahad has been keeping extremely busy, balancing a job as a Consulting Analyst at Deloitte Digital and writing her own book. Tanika explains how her 80-year-old grandmother and Tanika's own medical journey inspired her to write the book and what she hopes readers will take from the science-based, natural remedies.
You've just published your first book 'The Natural Remedy Lab' tell us a little about this process
About the book
The Natural Remedy Lab is a science-based reference to help manage your health naturally, using simple step-by-step recipes with easily available ingredients. It's more than just a collection of remedies, as the science behind each remedy is founded in research from peer-reviewed journals, but explained in language that is accessible and easy to understand.
It contains a variety of treatments from herbs and spices to pranayama and pressure points, addressing minor ailments such as coughs and colds, to more complex conditions such as arthritis and insomnia. The book helps you understand the mechanisms by which natural remedies work, enables you to create your own remedies, and empowers you to manage your health and wellbeing naturally with a science-based approach.
What drove me to write it
After being diagnosed with Crohn's Disease in 2016 and dealing with unpleasant side effects from the prescribed medication, I began to appreciate the benefit of managing my health more holistically. I was also inspired by my dadiji (grandma), who is incredibly healthy for an 80 year old, only ever using traditional Indian home remedies, which were passed down to her from her grandma. I not only wanted to document this knowledge and learn more about my Indian heritage, and spend more time with my dadiji, but also understand if and what the science behind these remedies was, and share them in the hope that it can help others to manage their health naturally.
What do you hope readers will get out of the book?
I hope that for those readers who have heard about some of these remedies before and dismissed them as "old wives' tales", they will look again and reconsider when presented with the science behind them.
For others, they may have already used some of the remedies in this book already, in which case they can draw some comfort in the fact that there may be some science behind them.
Some may have also imagined natural remedies to be complicated or the ingredients to be available only in specialist shops but I have tried to simplify them and included only remedies that use everyday ingredients you can buy at most shops or supermarkets.
Wherever the reader currently stands, I hope they will gain the confidence to try out some of the remedies and derive some health benefits naturally.
Is there any particular advice that stands out?
I'd like to emphasise that the content of the book is not presented as advice but rather a set of scientifically-explained remedies that I've heard about from my grandmother. I'll also reiterate that anybody with a serious health condition should seek advice from their doctor or other health professional. However, if you ask me for my personal favourites, I'd say the ones that taste the best!
Life during the pandemic has been stressful, is there advice from your research that will help bring some inner calm in a chaotic world?
Don't underestimate the power of deep breathing! We are already equipped with many of the tools needed to restore balance and inner calm. One of the 'treatments' included in the book is pranayama - an Indian practice that is a kind of breath yoga and is a Sanskrit word that can be translated as "life energy control". I'm sure many of you have heard about breathing into a paper bag to help ease a panic attack so it should come as no surprise that research has found controlled and deep breathing - including the kind involved in pranayama - to bring all sorts of benefits, one of those being 'restoring inner calm'.
Do you have any advice for our alumni who are thinking about embarking on the writing process?
Don't rush the process and be patient with yourself. You want the end result to be a book or piece that you're proud of, so take your time writing it, and don't beat yourself up if you're not working on it every single day - the priority should be quality not how quickly you finish it.
Also, don't doubt that you have something to offer. There were times throughout the writing process that I would wonder why anyone would want to read what I was writing, as I'm young and don't have years of experience in this field. But chances are if you're passionate about what you're writing and have some motivation behind it, you'll be bringing a lot of value to the table - and you'd be surprised how many people are interested in what you have to say.
How did the Management Science programme help prepare you for the world of work, and for writing the book?
In terms of the world of work, I think the programme helped me with getting comfortable when being thrown in the deep end. It gave me the confidence to know I can adapt to different roles and tasks and quickly learn whatever I need to know, which has been particularly useful for consulting.
Whilst writing the book, I was definitely wearing my sceptic hat throughout - this critical analytical thinking was ingrained in me from the Management Science programme, so the research I did behind each remedy was definitely rigorous.
What are the standout memories about your time studying with us?
Scenario Weeks were definitely impossible to forget - they were no doubt stressful at the time but always satisfying once you got through it - plus the free lunches at Canary Wharf were pretty nice, too.
Aside from that (and this is probably a cliché answer) but the standout memories from my time studying at UCL SoM are simply the ones with people on the programme, some of whom are now my closest friends.
Tell us a little about what you do outside of work
I must admit that between my job and working on my book, there hasn't been much time for anything else. My task didn't end with researching and writing the book as the design, marketing and figuring out the publishing process took as long as producing the content for it. That being said, I'm a dedicated dancer and enjoy going to classes every week. I have also been involved in mentoring a variety of younger people - current UCL students, students on internships and also women in India returning to education to help lift themselves out of poverty.