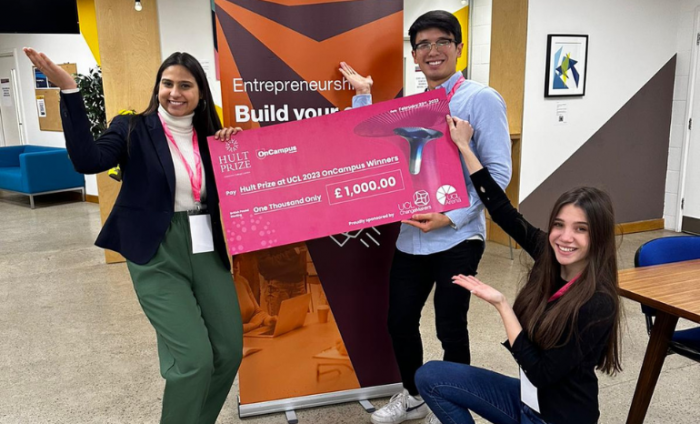 A team of UCL School of Management students will be representing UCL in the Hult Prize 2023 national competition after winning the final pitching competition for the Hult OnCampus Programme. Competing against other student teams from across UCL, MSc Management students Anjali Mann, Liyuan Luo and Roberta Salatioan also received a £1,000 cash prize to support their entrepreneurial endeavours.
Held every year, the Hult Prize is a global competition that challenges young people to solve the world's most pressing sustainability issues by creating innovative solutions and valuable social ventures. This year, the competition focused on fashion and highlighted the industry's responsibility for 8% of the world's total greenhouse gas emissions - more than all international flights and maritime shipping combined. In an attempt to tackle this global crisis, competition participants were tasked with creating a for-profit social venture that would create a calculable positive impact on both people and the planet.
This year-long competition sees competitors from all over the world enter several rounds of OnCampus programmes at their universities, with only 3,000 teams out of 20,000 advancing to the quarterfinals in March. With their winning pitch at UCL's final pitching competition, Anjali, Liyuan and Roberta will enter the quarterfinals next month.
Discussing their fantastic achievement, the team told us, 'the process required us to remain steadfast in our commitment to our business idea and keep challenging it for a better version of ourselves and the business itself. Winning the Hult Prize UCL OnCampus programme represents a milestone in our journey towards a more sustainable future, inspiring us to continue making a positive impact.'