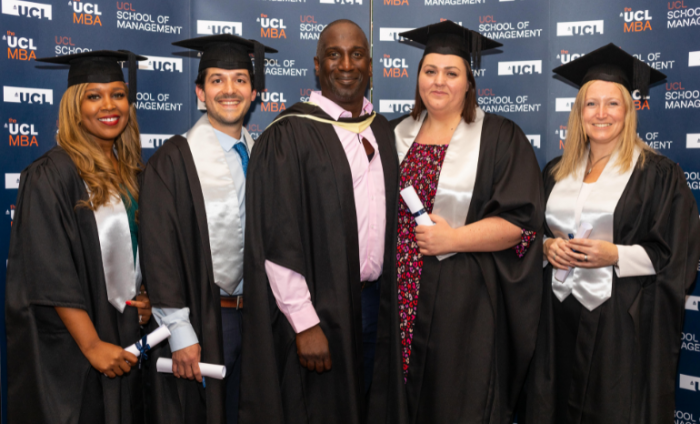 The UCL School of Management recently celebrated the success of five graduating MBA students, who joined us in London for our UCL MBA Orientation and Immersion Weekend and our first Completion Ceremony. Set to become an annual event, current and former School of Management students were invited to attend the ceremony to celebrate the Founders' Cohort, the first class of UCL MBA graduates.
A themed event, the UCL MBA Orientation and Immersion Weekend focussed on Sustainability, and included sessions with industry experts from the National Theatre and Mercato Metropolitano, a London-based sustainable community market. Attendees also boarded a Thames Luxury Charter before participating in a pasta-making workshop at Covent Garden's Petersham Nurseries, a family-run business with sustainability at the core of its business strategy.
Discussing the momentous weekend, the UCL MBA Director, Jim Berry, celebrates the achievements of the MBA graduates: "As an online programme, it is a great occasion to get together in person. This most recent gathering was extra special as it was an opportunity to celebrate our first group of graduates 'The Founders Cohort'.
These were students who took a gamble on a new programme, helped us build it through their feedback and have used it to change their lives and careers. This is why we built this programme. Our graduates are amazing people doing incredible things…they are great ambassadors for the programme and examples for our current students".
Congratulations to our UCL MBA graduates. We wish you luck in your future endeavours.