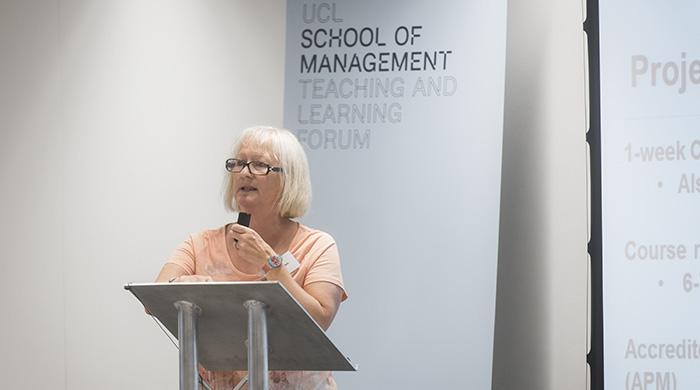 Jane Britton, Principal Teaching Fellow and Project Management Programme Director, has won one of the 2016 Provost's Teaching Awards, recognising her outstanding contribution to student learning.
The prestigious accolade particularly acknowledges and celebrates staff who invest effort in activities such as developing better ways of giving feedback and methods of assessment that transform the learning experience of our students.
Among her many contributions to the student learning experience, Jane has established the provision for students to undertake professional qualifications exams alongside academic courses, enhancing employability in what is a very competitive job market for new graduates.
"Students have reported that the additional professional qualifications have impressed employers and improved their career opportunities. I am really thrilled and honoured to have won a Provost's Teaching Award – it's a huge accolade," said Jane.
Having started her teaching career at UCL in 1995, Jane was among the first staff members and pioneers of the Management Studies Centre, which has since evolved into UCL School of Management within the Faculty of Engineering Sciences.
Jane is additionally an advisor to the Association for Project Management (APM) on the development of its professional qualifications and associated examinations; a Senior Fellow of the Higher Education Academy (SFHEA); a Certified Member of the Market Research Society (CMRS); and a Certified Member of the Association for Learning Technology (CMALT). Her long-standing achievements have also been recognised with UCL School of Management's inaugural Teaching Excellence Award in 2010.
The 2016 Provost's Teaching Award ceremony will be held in conjunction with the UCL Teaching and Learning Conference on Tuesday April 19 2016. If you wish to attend either the awards ceremony or full conference, please register here.