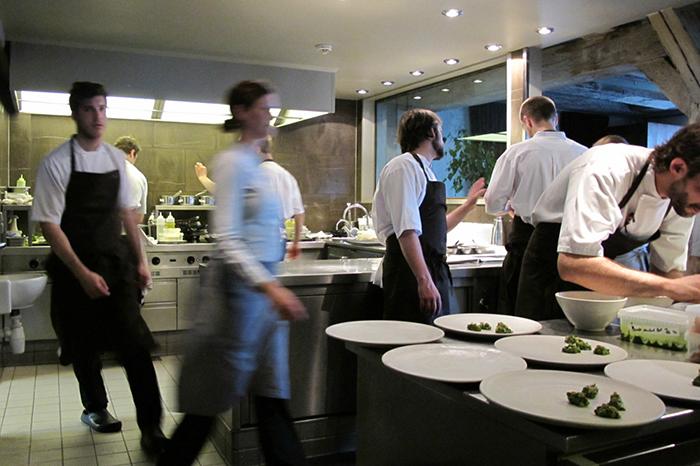 For successful innovation, hire high performing people with minimal job descriptions and let them adapt their own roles, research from the UCL School of Management suggests.
Assistant professor Vaughn Tan found that teams were more successful when employees were able to find and claim components of their roles that were useful, and drop components that were neither useful nor desirable.
It's a hiring approach that works for companies in innovative and rapidly changing industries, like technology start-ups, advertising, film production—and cutting-edge food.
"Because we can't predict the future, companies that need to innovate often have only a partial idea of who they need to hire and what those people need to do," says Tan, who studied hiring and job roles in internationally-renowned kitchens like The Fat Duck in Bray, Noma in Copenhagen, and The Cooking Lab in Bellevue, Washington. "Under these circumstances, it makes no sense to hire people as if we know exactly how their roles should be defined."
"In the most innovative restaurants, job descriptions are often minimal because things change so quickly and unexpectedly. New people join knowing a large part of their roles are undefined, and they work out how to customise their roles so they're personally satisfying and useful to the teams they've joined."
Tan believes many hiring practices today are poorly suited to the rapid changes confronting many businesses. He advises hiring managers to be frank about the level of certainty in the role they are hiring for, and explicit with potential employees about both the defined and the undefined parts of a role.
These findings were published in Administrative Science Quarterly.
Lisa Forrest, Global Head of Internal Talent Acquisition, at global talent acquisition and management firm, Alexander Mann Solutions, said: "This approach to hiring could support the development of a truly diverse workforce and better prepare businesses for the uncertain and highly flexible, digitalised era of work.
"Recruiting high-performing individuals who easily adapt to change will be hugely beneficial in creating a strong, future-proof business. Perhaps more importantly, this approach to employee-led career development will both reduce staff turnover and arguably increase productivity."
/ENDS
Read the published research here.
For more information or to speak to Professor Tan, contact Stephanie Mullins at BlueSky PR on smullins@bluesky-pr.com or call +44 (0)1582 790 706.