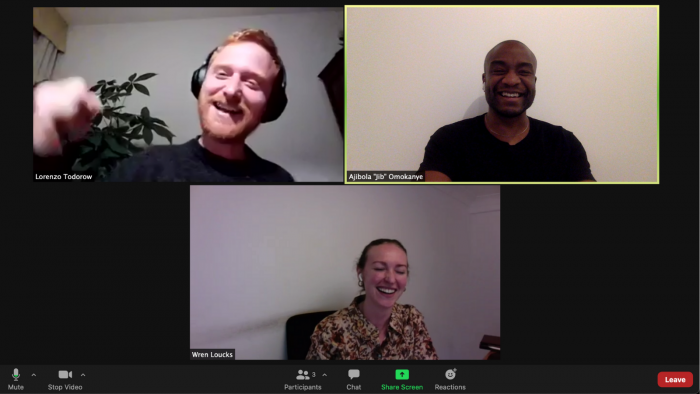 Lecturer (Education) Lorenzo Todorow and UCL MBA students Ajibola Omokanye (Jib) and Wren Loucks have successfully secured funding from the UCL ChangeMakers Awards for their fantastic initiative, The UCL MBA Circle.
The UCL MBA Circle was set up by Lorenzo, Jib and Wren to further create an inclusive space for all UCL MBA students to share and explore innovative ideas and gain added value to the UCL MBA experience from the wider cohort and industry experts. The founders hope the group will construct more opportunities for students to come together for informal networking and socialising. Through a series of mini monthly conferences, experienced business executives share their stories and insights with the UCL MBA community. UCL MBA students are also invited to speak at the sessions, as they have a wealth of knowledge and experience in business from a variety of different industries.

The trio discovered the UCL ChangeMakers Competition, which supports staff-student partnership initiatives, and successfully secured the full funding award of £750. Upon receiving the funding, Lorenzo said: "We were proud to have received such funding for an initiative that started in November last year, which will allow us to carry on with the good work and have more UCL MBA Circles in the future."
So far, The UCL MBA Circle has hosted multiple events discussing; equality and diversity within the professional environment, human-centred approach to design, sustainable finance: what are ESG scores, and renewable energy in the delivery of goods.
A highlight so far has been an interview with one of the most prominent CEOs in digital and start-up innovation, Alceo Rapagna, CEO of Startupbootcamp and Innoleaps. Hosts, Jib and Lorenzo discussed the 'Challenges of innovation: most attempts to innovate by start-ups or corporations fail short - what is the secret to success?', with Alceo in a fantastic and insightful session. Having worked as a manager, consultant, entrepreneur and investor, Alceo's experience in digital innovation spans across a wealth of roles. Watch the full interview and hear his key insights and lessons learnt from his successful career.