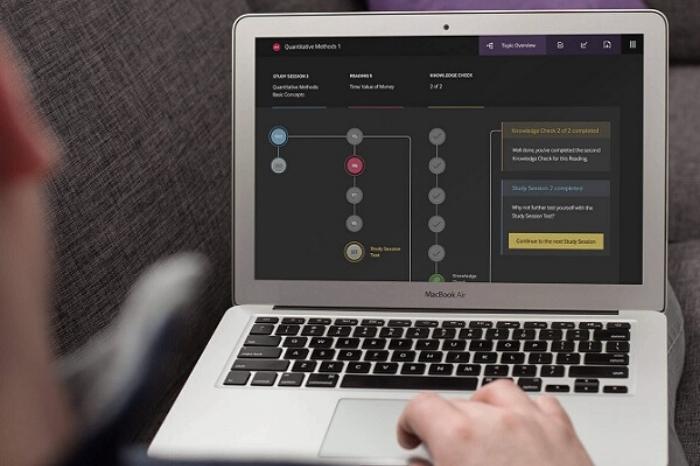 UCL School of Management is delighted to announce a brand-new partnership with Fitch Learning, part of the Fitch Group, to fund training for our top 50 MSc Finance students each year to prepare them for the CFA® Program exams.
We want to help our students be the best they can, and give them the opportunity to further their knowledge and make them the top candidates for the most competitive jobs in the investment and finance industry. The CFA designation is a globally recognised professional certification awarded by CFA Institute that measures and certifies the competence and integrity of financial analysts.
Studying for the CFA designation will help our students become specialist in different financial aspects such as ethics and regulation, therefore being an excellent complement to our MSc Finance.
The certification is no easy task, and graduates must dedicate four years on average to complete all three levels. "Pursuing the CFA designation is a very rigorous process, with less than one in five candidates successfully completing it to earn the charter." Paul Smith, President and CEO, CFA Institute.
Fitch Learning PArtenrship
The School of Management understands the importance of the CFA Program to enable talented individuals to achieve the highest distinction in the investment management profession and secure some of the industry's top financial positions. That's why we are committed to fully funding the top 50 students from our MSc Finance Programme to train with Fitch Learning for Level I of the CFA Program exams, which for self-funding students would cost over £2,500 for the online learning platform and full classroom experience.
Thanks to our new partnership, students will receive support from qualified Fitch Learning faculty to help them prepare for this challenging exam. Fitch Learning will support students with one week of face-to-face classes as well as granting them access to their specialised online platform, Fitch Learning Cognition until they are ready to take the test. The combination and flexibility of the online platform and face-to-face studying offers tailored support to meet individual students' needs and ensure they are well equipped for the prestigious CFA Program exam. Fitch Learning's award-winning, online learning platform, Fitch Learning Cognition, is designed to adapt to individual students' needs, monitoring performance, to ascertain weaknesses and deliver tailored content on the topics students need to strengthen. The platform can be accessed globally, making it very convenient for our international cohort.
Ranked as a top 8 global university in the QS World University rankings 2020, our MSc Finance is a highly selective programme, so it is no surprise that some of our talented students have already completed Level I of the CFA Program exams. However, those who have will still benefit from the Fitch Learning platform and access learning materials for Level II and Level III through the online platform.
MSc Finance Programme Director, Leila Pinto Campillo, developed this partnership with Fitch Learning to reward our high achieving students and support their development and training to prepare them for the competitive and challenging financial world. As a global accreditation the CFA Program is well suited to The School of Management's diverse and international student base, and will be a huge advantage for students regardless of the country they reside in to work, such as; Asia, Europe, Latin America or any other location.
Why this partnership is important
Leila said: "The CFA Program is recognised globally in the finance and investment industry and demonstrates that an individual has a deep understanding of the financial framework where global financial companies operate. Completing the CFA Program is essential to achieve a successful career at the highest level in financial investment management or banking industries, and that's why we are launching this new partnership with Fitch Learning.
Access to the online platform, Fitch Learning Cognition, and a week of face-to-face training coaches students through the intense and rigorous revision process, providing a unique study journey focussing on the gaps in the individual's knowledge. We are delighted to be working with Fitch Learning on this exciting new partnership."
Learn more about the MSc Finance Programme, Fitch Learning, and the CFA Program.