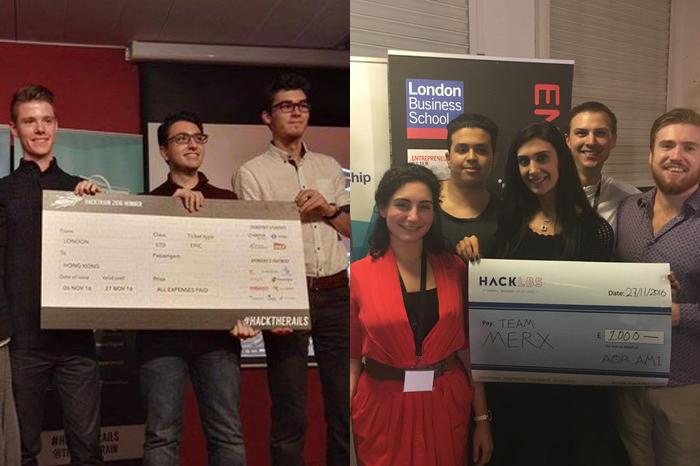 Two MSc Technology Entrepreneurship students have shown their potential as they won separate hackathons.
Garrett Dowd and Shardi Nahavandi, both studying MSc Technology Entrepreneurship, entered hackathons in the UK in the last few weeks.
Hackathons are events, typically lasting several days, in which a large number of people meet to engage in collaborative computer programming.
HackTrain to glory
Garrett entered HackTrain, a 3-day journey across the UK + EU, where 100 top developers, designers and entrepreneurs create websites and apps to solve the industry's biggest challenges.
"During HackTrain, our team created FlexRail," he said.
"FlexRail is a dynamic ticket pricing plugin for train operators. We improve operational efficiency by spreading out passenger loading. Our platform dynamically allocates a passenger's ticket to the least crowded train possible based on the passenger's preferences. The passenger gets a reduced price and is assured the most optimal train possible."
After competing against a number of other teams, FlexRail received the top prize, which was a fully paid trip to Hong Kong. HackTrain then sponsored the team to participate in HackTrain Hong Kong, which took place between 25 and 27 November.
Shardi makes her 'Merx'
Shardi entered HackLBS, which is a hackathon run by London Business School and brings together the brightest business minds, genius hackers, and design gurus from across the world to indulge in three days of product design madness to come up with solutions to tomorrow's most pressing issues.
"During the HackLBS I pitched my idea and 'Merx' was created, although the name is temporary" said Shardi.
" 'Merx' enables developing countries to have access to global e-commerce by allowing trusted payments between the two parties."
"We were honoured to have obtained the HackLBS FinTech Award, with our work being considered as having the most compelling potential in the FinTech Space."
By winning the top prize, Shardi scooped an impressive £1000, plus mentoring from Startupbootcamp.