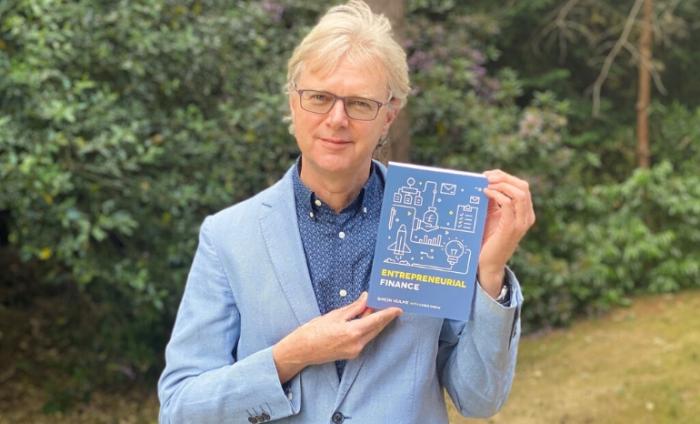 We are delighted to announce that School of Management's MSc Entrepreneurship Programme Director, Simon Hulme has published his first book, Entrepreneurial Finance. In this must read for any aspiring entrepreneurs, Simon shares his experience building and managing successful startups with easy explanations of financial statements and routes of fundraising.
We sat down with Simon (virtually!) to find out what inspired him to write the book and how he found his surprise virtual book launch.
What prompted you to write the book?
I started writing material for students when I first started teaching Entrepreneurial Finance in 2013. This was partly driven by the fact that the text books were all US focused, and I wanted material that was more relevant to the UK. I also found it helpful to me – when you write about a subject your knowledge naturally grows. My background was as an experienced CEO, not CFO, so there were some gaps in my financial knowledge, that writing the book helped fill.
How long has it taken you to complete?
The first parts were written seven years ago, but the real action started in February 2019 when Macmillan offered me a contract, having taken nearly a year to agree the format. At this stage about 60% had already been written and was widely used by students, although the format was not right for the book itself. Macmillan were the first publisher I spoke to, and this was only because their sales rep had come to see me at UCL! Once everything was agreed with them, it took around a year to complete.
How did you find the writing process and did you learn anything new while writing it?
The process of writing the book was great fun and extremely intense at times, especially towards the end when the deadlines were looming. I would research and write the material then pass to Chris Drew, my co-author, who would review it and suggest amendments or additions. Chris's technical knowledge was outstanding, and invaluable for some of the more complex topics. We would have periodic Skype calls to thrash out issues and edit together using the shared screen.
What would you say is the key takeaway from the book?
The book explains the financial statements in an easy to read style and draws upon numerous British company examples to illustrate points. It also comprehensively covers the different sources of fundraising, again using examples, two of which have come from MSc Entrepreneurship alumni. There is a commercial theme throughout the book, drawing attention to the practical applications of the knowledge and the implications of financial decisions taken.
How did you find your virtual book launch?
My wife, and one of three daughters, surprised me and very kindly made a cake with an enormous fire-work sized candle and served up Champagne to celebrate. As we were not altogether, my two other daughters joined in on FaceTime, along with all their boyfriends. So this unexpected event became the launch party. I posted a picture on LinkedIn and it has had over 5,000 views.
What would be your key piece of advice for anyone wanting to start their own business
The first is to make sure there is a market for your product or service. What problem are you solving in the marketplace? Assuming you have gained this 'product/market fit' then scale it, keeping a clear focus on driving profitability. Unfortunately, too many young entrepreneurs just focus on the scaling and think they can keep raising new funds indefinitely. This is a mistake and reaching profitability has to eventually occur, otherwise investors will lose interest. A profitable business should also be generating some, or all, of its cash flow requirements, and if it does need to still raise more capital, this is far easier for it than if trading at a loss.