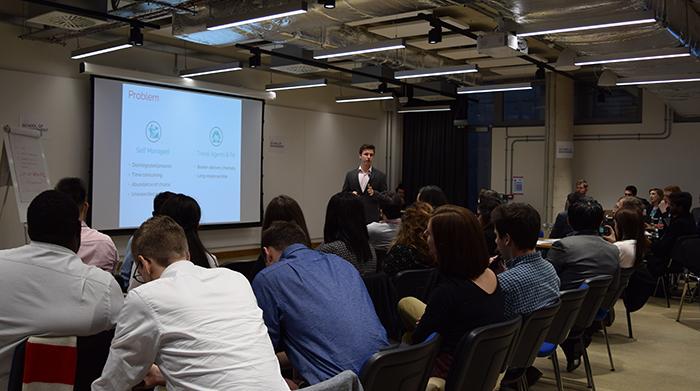 MSc Technology Entreprenuership students took to BASE KX last week to pitch their start-up ideas to colleagues and esteemed individuals from the London tech community.
Start-up ideas included an online platform to help independent doctors maintain their license to practise, a wearable safety device for skiers and intelligent horse monitoring technology.
Pitch Day is one of the many practical initiatives built into the Masters programme to prepare students to succeed as founders of high impact, innovative businesses.
Rafael Hernandez, student entrepreneur said: "Pitch Day gives us the opportunity to put in practice what we've learned in the first term and to be more confident when pitching to investors and business accelerators. It was inspiring to hear the great ideas my colleagues have, to see how hard they work and watch how fast we're all progressing."
Vishal Sharma, student entrepreneur said: "Through the MSc Technology Entrepreneurship, we're learning the nuts and bolts on how to start a business in an extremely lean way. The frameworks and insights shared in the programme are critical to ensure we make progress in our venture with high velocity. It has really taught us to think through every action and most importantly learn from it, so we don't make the same mistake twice and can move faster in the future."
Since the MSc Technology Entrepreneurship launched a decade ago, it has generated 57 alumni who are currently working as founders or co-founders of start-ups.