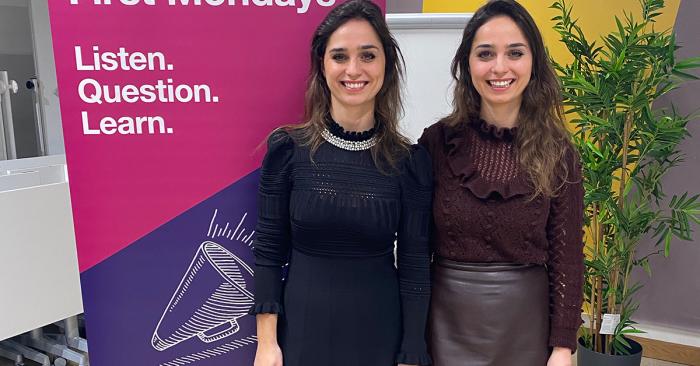 UCL School of Management Alumnae and Double Dutch founders Joyce and Raissa De Haas told their start-up story at UCL Innovation and Enterprise's monthly entrepreneurial community event, First Mondays.
The pair founded Double Dutch while studying MSc Entrepreneurship at UCL School of Management in 2014, and since its launch have gone on to win numerous awards for their innovative and unique premium soft drinks, including the 2015 Virgin Foodpreneur award.
The duo thanked UCL School of Managment and UCL Innovation and Enterprise for their support: "UCL helped us a lot in the beginning…we won £9,000 from UCL and with that we produced our first batch."
They shared their lessons learnt with fellow entrepreneurs, from their flexible business plan to securing the right investors for your product.
Choosing the right team to have around you is vital according to Joyce: "It's important to get along with your investors and make sure their share your vision for the company. Personality is key and you need to get along with your investors on a personal level."
Their business has gone from strength to strength but the pair have remained true to their mission, and continue to develop their products based on customer feedback to ensure they are meeting their audience's needs.
Raissa said: "Don't be afraid to launch your product before it's perfect. Get it on the market as soon as possible and you can then focus on developing it based on customer feedback."
Like all startups it wasn't always easy, and the duo have faced difficulties. However, they didn't give up and are now one of the most successful premium soft drinks companies in the market.
When it gets difficult and you receive more no's than yes's, Joyce said: "It helps to have a co-founder, as one will be more positive than the other and remind you that if it's your baby and you have dedicated so much of your time and life that you have to continue on and take the next step."
We are extremely proud of our talented alumnae and grateful to them for sharing their knowledge and experience with fellow UCL entrepreneurs.