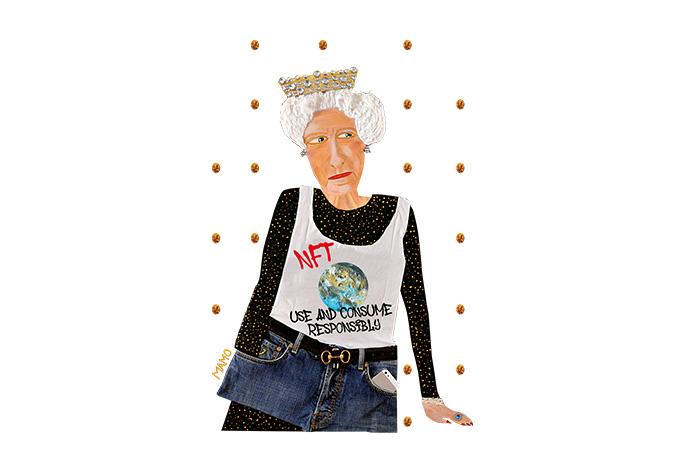 Paolo Taticchi, a professor at the UCL School of Management and an expert in corporate sustainability, has today launched the "NFT sustainability manifesto" to raise awareness about the opportunities and environmental risks for companies using NFTs. To promote the message of responsibly using the technology underpinning NFTs, the sustainability manifesto will be accessible through a single sustainable NFT, which will not be sold.
First conceived by Paolo Taticchi, the NFT was created through a collaboration between NFT designer Michele Fabbro and Italian artist Massimiliano Donnari (aka "MAMO"). The NFT resembles royal influencer Queen Elizabeth II wearing a top featuring the Earth with the tagline: "NFT – use and consume responsibly".
As traditional NFT trading models consume substantial amounts of energy and generate carbon emissions, this NFT was minted on the energy-efficient blockchain Stratisphere. The Stratis blockchain is based on Proof-of-Authority (PoA) — a blockchain design that balances decentralization with energy efficiency. Additionally, digital planting company Treedom has planted a tree with the goal of neutralising the carbon emissions associated with the digital token.
Viewers of the NFT will be able to access the NFT Sustainability Manifesto from a link embedded in the description. In a decade where almost all large organisations have committed towards carbon net-zero targets, the engagement with these new technologies should be a cautious one, and the manifesto lays out some of the best practices for companies thinking of using this technology.
UCL Professor Paolo Taticchi, commented: "I'm always enthusiastic about new technologies, and I'm also positive about the future of NFTs and the underlying technology. However, at the same time, many companies are now engaging with complex journeys of sustainable transformation and are setting net-zero objectives. Taken together, businesses must fully appreciate the reputational risks and environmental implications of using this technology. Hence this manifesto, which encourages the responsible use of NFTs."
Massimiliano Donnari, added: "I decided to adapt one of my popular queens for this project. I was inspired by the responsible leadership of Elisabeth II and the impact influencers like Italian Chiara Ferragni can have through their work. The result is a stylish queen that reminds us of an influencer and stands for the planet by becoming an ambassador of the manifesto."
Chris Trew, founder and CEO, Stratis, said: "By leveraging our implementation of Proof-of-Authority on Stratis, a globally distributed group of nodes validate transactions without the need for energy-intensive 'mining' common to Bitcoin and Ethereum. We have achieved a balance of true decentralization with sustainability in mind, which is critical to the widespread adoption of NFTs. We support UCL's efforts to raise awareness of the sustainability issue related to NFTs and blockchain technology as a whole. In our view, it's not an either-or situation — there are sustainable options for blockchains and NFT issuance while retaining levels of decentralization."
NFT link:
https://stratisphere.com/asset/CUvRGkr3mezbC6RVTe81mSdqre6rm2H1Nh/1

ENDS
About the creators of the NFT Sustainability Manifesto
Professor Paolo Taticchi is a sustainability expert at UCL School of Management. His research, which focuses on corporate sustainability, is internationally recognised. In 2021, Paolo was named by Italian's leading business newspaper II Sole 24 Ore as the most influential Italian under the age of 40.
www.paolotaticchi.com

Michele Fabbro is a London-based NFT designer and a senior FX artist. He is also the creator of the News On T-Shirt project.
https://www.newsontshirt.com

Massimiliano Donnari (aka MAMO) is an entrepreneur and listed artist based in Perugia, Italy.
https://www.instagram.com/mamodart/

Stratis is a blockchain-as-a-service platform that delivers several products and services for individuals, businesses and enterprises. Stratis utilizes existing Microsoft frameworks and technologies to appeal to an existing community of .NET Developers. With a current focus on Gaming and NFTs, Stratis offers the first commission-less NFT Platform and a variety of development toolkits, catering for the most popular gaming engines.
https://www.stratisplatform.com/

Treedom is the world's first platform for planting a tree remotely and following its story online. All trees planted and photographed and geolocated for maximum transparency, making it an ideal corporate partner for sustainability initiatives. To date, they have planted more than 3 million trees.
https://www.treedom.net/en/