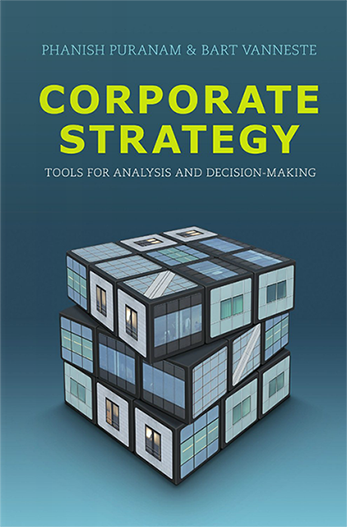 What corporate strategists too often get wrong
CEOs and their staff must ask themselves if there are good reasons for taking certain paths and avoiding others. A new book by Professor Phanish Puranam from INSEAD and Dr Bart Vanneste from UCL School of Management provides these corporate strategists with the tools needed to understand the alternatives that lie behind major strategic choices.
Based on over two decades of research and teaching in the world's leading business schools, Corporate Strategy: Tools for Analysis and Decision-Making modernises the typical textbook format by focusing on decisions, rather than theories.
The authors tackle the big decisions that determine whether multi-business companies thrive or falter. These include the choice between retaining or divesting businesses, inorganic or organic growth, mergers/acquisitions or alliances, and directive or evaluative control by headquarters.
"Decisions about corporate strategy are some of the most – if not the most – consequential decisions that CEOs of multi-business firms can take," says Bart Vanneste, Associate Professor in Strategy at UCL School of Management. "Since the competition for the CEO is a mutual fund manager who can assemble similar portfolio of businesses, the only way to survive in today's markets is for a CEO to get the corporate strategy right. Making sure that individual businesses do well, is quite often not enough."
"Too often, corporate strategists are led by their professional advisers into the consideration of a particular industry, acquisition target, or alliance partner, as vital to their growth plans. It's a bit like facing the magician who forces you to pick the card he wants you to pick. Strategists – by which we mean CEO's and their staff – must know how to take a sophisticated look at the roads not taken. By asking the right questions, they must figure out of if there were indeed good reasons for avoiding them." says Phanish Puranam, who holds the Roland Berger Chaired Professorship in Strategy and Organisation Design at INSEAD.
The book combines the latest thinking on designing organisations with corporate finance – both key ingredients for a corporate strategist, but which rarely appear together in contemporary books on the topic.
By showing corporate strategists how to break down and analyse complex decisions, the authors aim to help improve the quality of corporate strategy choices, show observers how to analyse them and guide students towards understanding them.
The book is now available to buy on Amazon here:
http://www.amazon.co.uk/Corporate-Strategy-Tools-Analysis-Decision-Making/dp/1107544041/