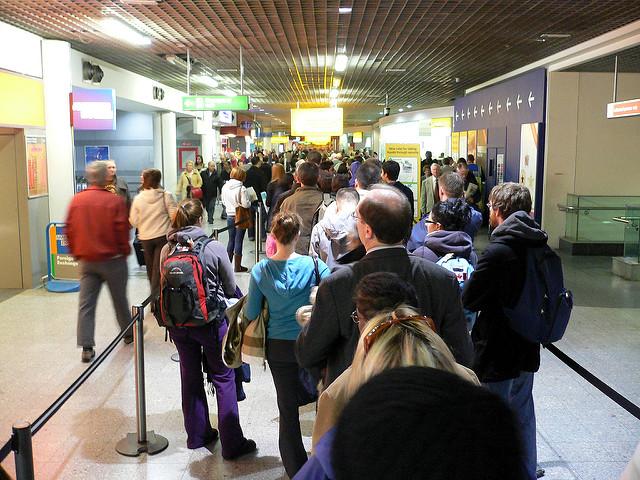 A new system to predict whether passengers will catch their connecting flights has been developed to reduce delays at the world's busiest airports, by the UCL School of Management.
Professor Bert De Reyck, Director of the UCL School of Management, is leading a team to accurately predict whether passengers will catch their connections and when they will arrive at border control, to avoid flight delays and queue-build-ups.
By providing access to real-time data, the study focuses on passenger movement using advanced data analytics and machine learning technology.
A prototype of the system went live at Heathrow on 19 July. Early results demonstrate that accurate predictions of passenger movements can help managers better understand the key factors that influence passengers' connection time - and they can help improve passenger services in real time.
"Heathrow handles more than 75 million passengers per year.", De Reyck says. "With more than a quarter of all passengers landing in Heathrow making a flight transfer, any interruption causes further delays not only throughout the day, but throughout the entire European network as the airport is a major hub for connecting flights. That's why Heathrow is making sure that all processes are optimised."
Tom Garside, Head of Integrated Planning & Performance at Heathrow, said: "This study has demonstrated how the latest analytical techniques, using real time data, can be used to improve the experience of connecting passengers, and to support aircraft punctuality. We are now looking at how we deploy this approach into live operations and to apply similar techniques to other airport processes."
This study is part of a collaborative project to completely overhaul European airspace and its air traffic management. It was commissioned by Eurocontrol, the European Organisation for the Safety of Air Navigation.
ENDS
About UCL School of Management
The UCL School of Management is the business school of University College London (UCL) and is located in Bloomsbury and Canary Wharf, London. The school offers undergraduate, postgraduate, executive and PhD programmes in management with a focus on innovation, technology, analytics and entrepreneurship.