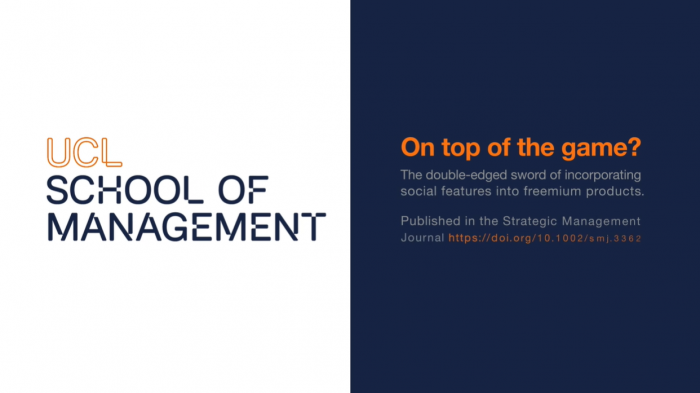 A joint paper, On top of the game? The double-edged sword of incorporating social features into freemium products, by UCL School of Management professor Joost Rietveld and PhD student Joe Ploog has been published in the Strategic Management Journal. Focussing on Freemium products, the paper investigates the fundamentals of why some freemium products become superstars while others flatline, and more specifically, the extent to which social features can influence their success.
In 2018, Freemium products made up over 75% of all apps on the App Store and include popular games, dating apps, ride-sharing apps, and online communication platforms. In order to be successful, the co-authors argue, freemium products require widespread diffusion, which is often enabled through the incorporation of social features, such as multiplayer, virtual collaboration or ride-sharing.
However, the inclusion of social features does not guarantee success. According to Joost and Joe, the decision to implement social features should be contingent upon the number of users on the platform the product is released on, also known as an installed base. Platforms with a larger installed base will have more users to potentially adopt the product. By contrast, platforms with less users often become hindered by the use of social features, as it may actually showcase the absence of a large number of players. Thus, the incorporation of social features becomes a double-edged sword in the success of freemium products.
Read the full paper here and watch the video abstract below.