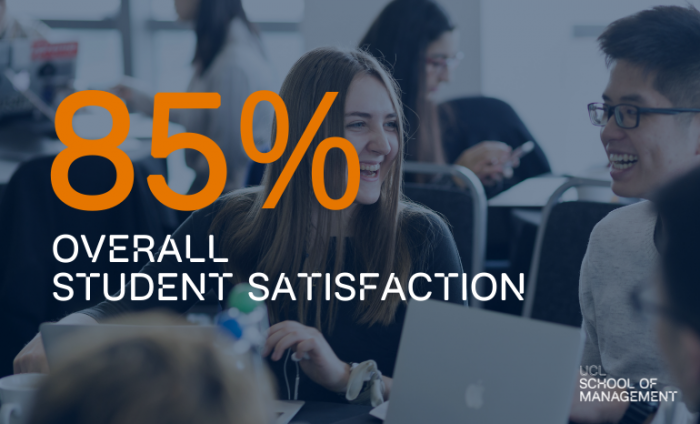 In a year full of challenges across the globe as the world transitioned to a new way of working and learning during the pandemic, UCL School of Management has received an average student satisfaction of 85% in the National Student Survey, NSS.
The (NSS) is an independent survey for undergraduate students in the UK to share their thoughts on their university experience, looking at the academic support, available learning resources, student voice and much more. Almost half a million students at universities across the country participate in this survey annually. We use the results to identify our areas of strength and weakness, helping improve the overall student experience for current and prospective students.
Despite the challenges faced around the world over the past year, we've worked hard to ensure that students studying with us during 2020/21 have had an excellent learning experience, and our BSc/MSci Management Science programme achieved an overall satisfaction score of 90% and our BSc Information Management for Business programme achieved 82% overall.
These results are thanks to the hard work of all staff involved with the programmes who take the feedback we receive seriously and act upon it swiftly to ensure we deliver programmes to the highest standards. It demonstrates their dedicated support to students, especially in such unprecedented times.
You can see the full list of the NSS results here.