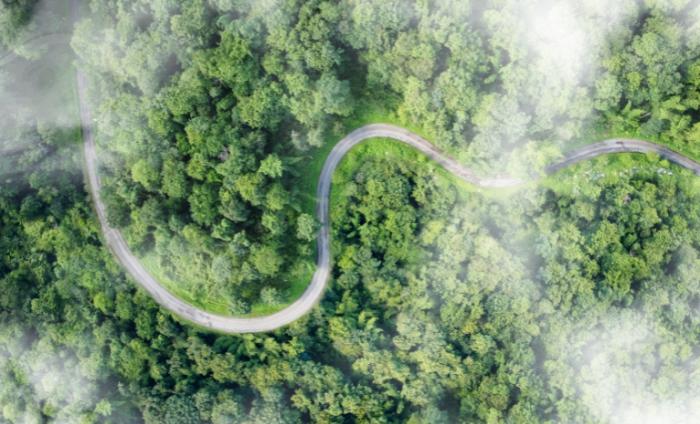 UCL School of Management's Deyu Ming, in collaboration with the University of Exeter and UCL Department of Mathematics, has successfully secured a £2million funding from the UKRI's AI4NetZero research grant to develop AI-enhanced tree-planting decision support tools for Net Zero until April 2025.
In this project, Deyu will lead a work package focused on developing innovative AI techniques, which will contribute to the UK's Net Zero goals through woodland expansion, together with the University of Exeter, UCL Department of Mathematics, and project partners including Defra, National Trust, MoD, Forestry England, Network Rail, and more. This funding, coupled with an additional £1m matching fund, will help UCL School of Management make meaningful strides towards a more sustainable future, aligning with the School's visions and efforts on environment and sustainability.
We sat down with Deyu to discuss this exciting research project.
what is the research question you are hoping to answer?
The £2M UKRI funding project, 'User-bespoke AI-enhanced decision support to deliver UK woodland expansion for Net Zero' (AI4NZ) led by Professor Daniel Williamson at University of Exeter, aims to deliver bespoke, automatically-generated, decision support tools for tree planting with the goal to achieve UK's commitment to Net Zero by 2050 through woodland expansion. As a co-investigator of the project, Deyu will help develop innovative AI techniques that build and link fast-running emulators of computationally expensive scientific models automatically and accurately to provide policymakers with capabilities to explore in real-time tree-planting decisions.
How was this project born?
The AI4NZ project builds upon Deyu's ongoing collaboration with the University of Exeter on anther UKRI-funded project called NetZeroPlus. This multi-disciplinary and multi-million-pound project, based at the LEEP Institute and led by Professor Ian Bateman, focuses on the crucial objective of planting "the right tree in the right place." With the application of Artificial Intelligence, AI4NZ project aims to enhance NetZeroPlus by delivering co-designed decision support tools for tree planting and policies that foster woodland expansion to our project partners in Defra, The National Trust, Network Rail, The Ministry of Defence, Forestry England, The National Forestry Company, and The Woodland Trust. Moreover, the involvement of the UCL Department of Mathematics promotes knowledge exchange among world-leading researchers in AI and Net Zero, spanning different disciplines and universities. This collaboration presents an exceptional opportunity to address the pressing global environmental challenges that we currently face.
Why is this funding so significant and what does it mean for your project?
The UK government has committed to ambitious and legally-binding targets for expanding UK woodland in the Environment Act (2021) to address greenhouse gas emissions. However, achieving this objective requires addressing various complexities that necessitate sophisticated scientific and socio-economic models developed by the academic community. The funding this project will receive from UKRI will enable the team to integrate natural, physical, and socio-economic science knowledge into a decision support tool for afforestation. The tool will be made available to policymakers to help achieve Net Zero and broader ecosystem service objectives. The project will also reinforce the UK's leading position in AI and Uncertainty Quantification (UQ) by adapting and applying these techniques to the critical challenges of our time.
How does this project tie in with the school's vision and mission?
The project directly contributes to UCL SoM's vision and mission in that it fosters innovation. AI4NZ will seek innovative and science-informed AI solutions to address complex challenges associated with achieving Net Zero. The project demonstrates UCL School of Management's commitment to pushing boundaries, implementing sustainable practices, and exploring innovative approaches to make a positive social impact.
UCL SoM places a strong emphasis on research and its practical application. This project provides a platform for researchers across various fields to apply their expertise, engage with policymakers, and contribute to the advancement of knowledge in AI and Net Zero. Insights gained from the project can be shared through publications, conferences, industry events, and engagements with partners and stakeholders, further reinforcing the school's reputation as a leading institution for research and real-world focus.
Join our team as a Research Fellow
As a part of this project there is an exciting opportunity to join the UCL SoM and the Department of Mathematics as a fully funded Research Fellow focusing on AI. The selected candidate can expect to collaborate closely with researchers from UCL SoM, UCL Department of Mathematics, University of Exeter, and project partners to develop novel AI techniques with real-world impact. The deadline for the position is 06 August 2023. Find out more about the opportunity here.
For further information about the project please see the AI for Net Zero Project website.