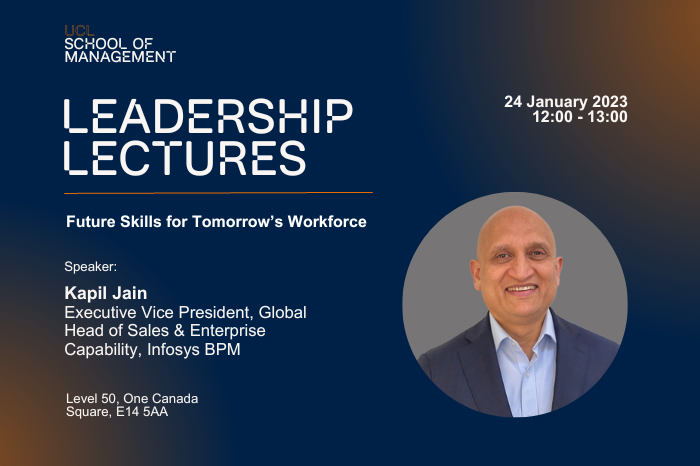 Speaker
Kapil Jain, Executive Vice President, Global Head of Sales and Enterprise Capability , Infosys BPM
Description
Join us for a Leadership Lecture with Kapil Jain, Executive Vice President, Global Head of Sales and Enterprise Capability at Infosys BPM.
This is a brand new series of lectures exclusively for UCL School of Management students which gives you access to the minds of the leaders of world renowned organisations.
In this lecture, Kapil Jain will be giving you his view on the most critical skills that are required to thrive in the workforce of the future, as well as how Infosys BPM is tackling some of the world's great challenges.
Kapil is globally responsible for sales, marketing, M&A, alliances, and influencer relations. He is also the global head of enterprise capability, responsible for all enterprise services, industry solutions and value design. As a member of the Executive Council, he also participates in formulation and deployment of business strategy for Infosys BPM.
He has been with Infosys since 2000 and has served in a number of leadership roles in technology and operations across sales, delivery, transition and solution design. Prior to joining Infosys, he has been with HSBC's corporate finance and advisory group and ICRA. He has more than 25 years of experience overall, 17 in India and 8 in the US.
Open to
All School of Management students
Last updated Thursday, 19 January 2023