A UCL study of the country's most highly populated towns and cities1 has revealed the best places to start a business in 2016 – placing Bristol, London and Birmingham at the top of the table.
A review of the availability, quality and cost of amenities on offer to entrepreneurs around the country, carried out by UCL's School of Management, looked at factors such as broadband speed2 and the cost of central office space3, alongside the number and value of start-up loans accessed by new businesses4.
The UK's top 10 cities for entrepreneurs are: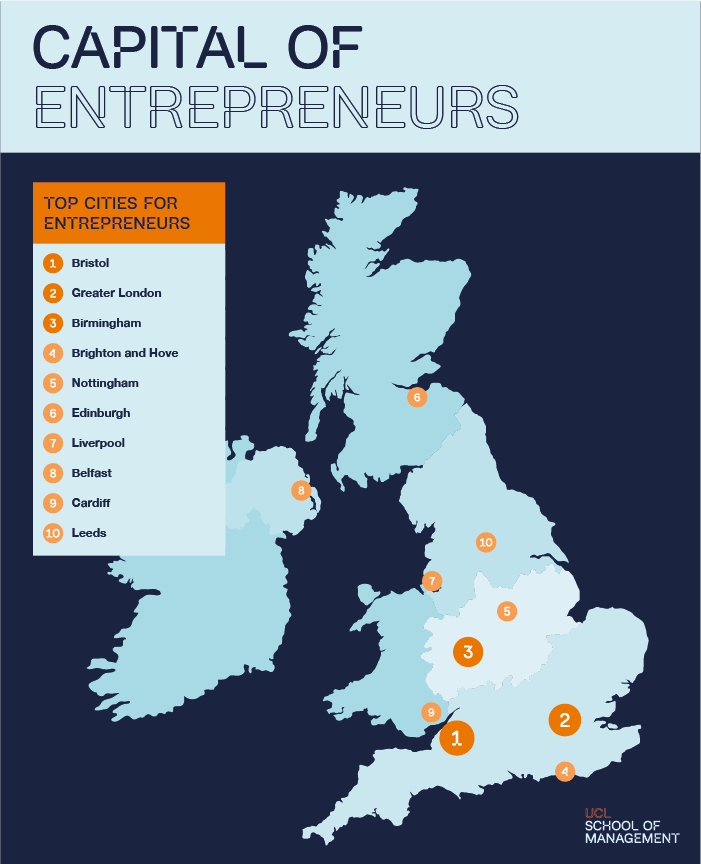 Bristol
London
Birmingham
Brighton and Hove
Nottingham
Edinburgh
Liverpool
Belfast
Cardiff
Leeds
Average value of funding per start-up
Start-up businesses in the capital received over £9m in funding in the final quarter of 20145, working out at £1,038 per new business and putting London at the top of the list for funding per start-up. Second on the list, but following some way behind London, is Sunderland, where entrepreneurs received an average boost of £720, and Hull, where new business owners access an average loan value of £552.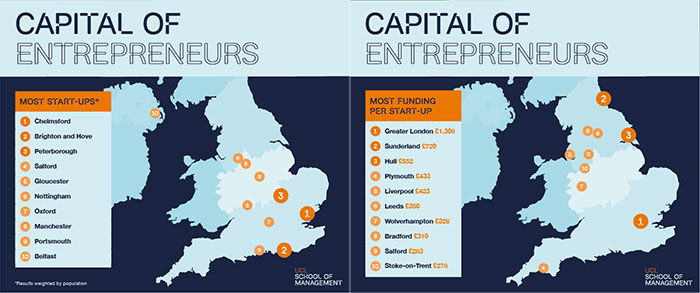 At the other end of the funding scale are businesses in Manchester, Nottingham and Leicester, which receive an average of £158, £137 and £132 respectively. Businesses in these three cities accessed £1m in funding in the final quarter of 2014.
Number of start-ups
Chelmsford is home to the most start-ups, when weighted by population, followed by Brighton and Peterborough. According to Companies House, 5,878 new businesses registered in Chelmsford in 2014, followed by 8,344 in Brighton and 5,295 in Peterborough.
Broadband speeds
Topping the table for broadband speeds and well above the UK average of 26Mbps are Bristol and Portsmouth, at 33.8Mbps, and Belfast at 36.6Mbps. Cities with broadband speeds that fall below the average include Leeds (25.3Mbps), Cambridge (23.5Mbps) and Sheffield (20.9Mbps), with Hull at the bottom of the table at 14.1Mbps.
Chris Coleridge, Director of the UCL MSc in Technology Entrepreneurship, comments: "Better broadband may make it quicker and easier to do the basics - sending emails, updating web content, building customer and partner relationships - but ultimately allows any sole trader to fully operate and grow in a global marketplace."
Office costs
Central office space is, understandably, at its highest price per square foot per month in London, at £52.50. Outside of the capital, office costs an average of £3.16, with all but Belfast, Brighton, Cambridge, Edinburgh, Exeter and Leicester falling below this cost:
London (£52.50ft2 per month)
Belfast (£6.82/ft2 per month)
Cambridge (£4.08ft2 per month)
Exeter (£3.97ft2 per month)
Edinburgh (£3.45ft2 per month)
Brighton (£3.38/ft2 per month)
Leicester (£3.18ft2 per month)
Chris adds: "A great business idea is just the start of succeeding as an entrepreneur, and we've found some surprising differences in the facilities available to them across the UK. The factors we have explored, from basic funding to the cost of running an office, can have a real impact on the direction and growth of a business as it gathers pace.
"Entrepreneurs whose aim is to start a business this year should invest plenty of time in the planning phase, in order to research the pros and cons of not just their product or service, but of their hometown in order to counteract any hurdles. Business networking groups and collaboration with other local entrepreneurs shouldn't be overlooked, as it can help with knowledge and insight sharing particularly in the early stages."
University College London is currently offering one budding entrepreneur the chance to win a free place on its MSc Technology Entrepreneurship – a scholarship worth over £11,090 – by entering The Panel. Find out more and how to apply here: https://www.mgmt.ucl.ac.uk/the-panel-application
1 Towns and cities identified using the 2011 Census;
2 Identified using average broadband speeds available in cities and local authorities from Ofcom's 2014 Infrastructure Report
3 Calculated by finding an average price, per square foot per month, of office space available in the centremost point of each city, using commercial property listings at Rightmove in November 2015;
4 Calculated by dividing the total amount loaned to start-ups by the number of start-ups receiving a loan, between October and December 2014. Data provided by startuploans.co.uk
5 Calculated by dividing the total amount loaned to start-ups in 2014, divided by four to achieve a three month average