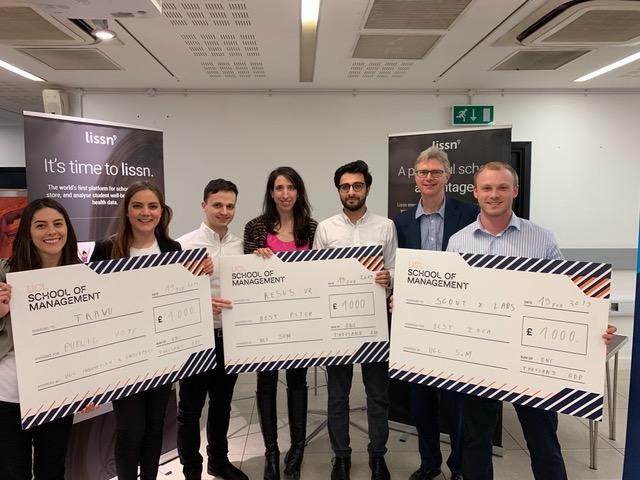 As the 2018-2019 academic year draws to a close, we thought it would be a great opportunity to look back at the two pitch events that were organised this year as part of the MSc Entrepreneurship programme.
During these events we invite an array of people, both within UCL and also the wider business community, to discover what our students have been working on. Not only does this provide a platform for our students to present their ideas to an audience of experts in a variety of industries; the networking aspect of the event also allows them to reach a wider audience and get introduced to valuable contacts within the wider the startup ecosystem.
As part of our ongoing partnership with the Engineers in Business Fellowship (EIBF) we were able to provide a range of attractive cash prizes to our winning participants - prize money that will be used to invest into their business and accelerate their growth. The Engineers in Business Fellowship is a registered charity that promotes the importance and value of business education for engineers in order to improve people's lives and the performance of the UK and global economies.
Event One - February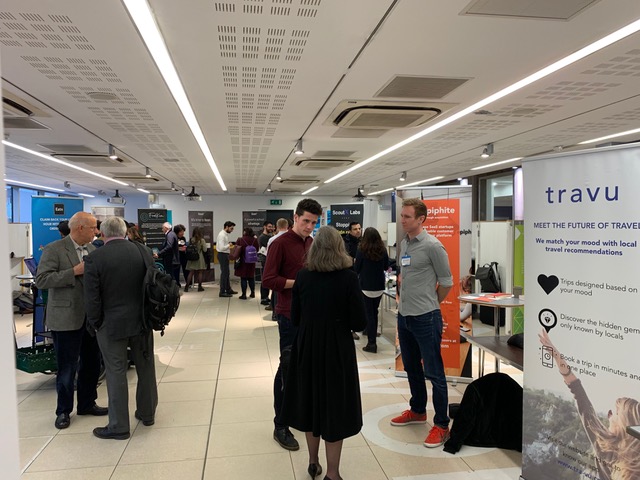 In February our first event for this academic year took place at UCL's Bloomsbury Engineering faculty building. The choice of this location proved to be a success as aside from our network of investors, mentors and alumni, we were also able to increase our footfall by attracting undergraduate students moving around campus to the event. We started in the afternoon with a startup market where students showcased their business in an exhibition style format. As the night drew closer, we moved into a nearby lecture theatre for a range of pitches with Q&A, followed by a networking reception. Eighteen students took part in the showcase and eleven pitched their startups on the day.
The judging panel awarded Nick Minteer with the best idea prize for his startup ScoutXLabs, a £1000 cheque kindly sponsored by the Engineers in Business Fellowship. ScoutX Labs is focused on solving the problem of date rape. Specifically, 1/10 UK students and 1/13 US students report they have been drugged when at a bar or nightclub. They have created a fun 3D printed customizable detection device that enhances the social experience while ensuring no date rape drugs are present within the drink. The device continuously monitors for all date rape drugs, based on a key breakthrough in drug sensing technology.
Usman Goga of Resus VR was awarded the prize for the best pitch, which was also a £1000 cheque sponsored by the EIBF. Resus VR is changing the way doctors and nurses are trained, because it's believed that simply reading textbooks and passive observation on the wards does not prepare you for treating a critically unwell patient – particularly making split-second decisions under extreme stress. Resus VR are creating immersive virtual reality content through which students make treatment decisions in high pressure environments, preparing them better for real-life practice.
Maria Torres Pelayo and Nuria Cristo Puig were awarded the public vote prize after gaining the most support from the audience for their showcase stand. They too received a £1000 cheque, this time sponsored by UCL Innovation and Enterprise. Their startup, Travu, is a virtual concierge that matches your travel mood with local recommendations. With a customer-based interaction, the app designs trips based on your mood allowing you to discover the hidden gems only known by locals.
Event Two - July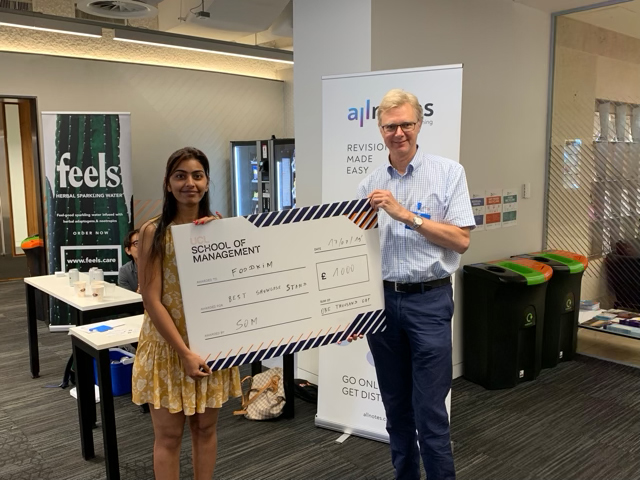 In July we held a similar event, but this time on the other side of London at our home on Level 38 of One Canada Square in Canary Wharf, with a startup market followed by a series of pitches. Besides our mentors, investors, and alumni, we were also happy to welcome UCL Summer School students and guests from startup accelerator Level39 to this event. Eight students took part in the showcase and seven students pitched their business.
The panel had an especially hard decision to make at this event as students had stepped up their game for this summer event. Instead of awarding a prize for the best pitch and the best idea separately two students were offered the joined prizes. Each student received a £1000 jointly provided by both the Engineers in Business Fellowship and the School of Management.
Christian Warken took the cheque home for his startup, Medulla. Medulla is a web-based medical platform for Doctors and medical staff that takes electronic health records to the next level. Through anonymously connecting patient data, treatment and diagnostics for patients can be vastly enhanced, while simultaneously reducing the time that doctors need to spend on interacting with outdated software, so that they can truly focus on what truly matters; their patients. Similarly, Rudolf Fischer was awarded a prize for his startup FAYR LEATHER, which provides high quality leather apparel for men and leather as a raw material for manufacturers in Europe. All of their products are solely tanned with natural ingredients, without the use of hazardous chemicals. They also ensure good working conditions for their craftspeople and only use hides that are a by-product of the meat industry, believing in full transparency to maximise the positive impact on people, animals, and the environment.
Supriya Rai convinced the audience at the showcase that her startup was innovative and exciting, and took home £1000 cheque provided by the School of Management for her startup FoodKim. FoodKim is an app that helps people to follow a diet and eat healthy by counting the calories and providing the nutritional breakdown of food, hence bringing the peace of mind. The utilizes the advanced optics in smartphone and cutting-edge algorithm to understand the chemical composition of the food.
A few thank you's
To give our students the best chance of success, we arranged a number of workshops to give them a range of new skills that are essential in the launching of a startup. Firstly, they had the opportunity to join a workshop with movement and public speaking coach Emma Zhangs, who really helped the students to develop their confidence when delivering a pitch, and to own the room and the audience when giving their pitches.
Secondly, our own Christina Richardson (Senior Teaching Fellow in Entrepreneurial Marketing) hosted a workshop on design fundamentals. The workshop was a very in-depth one, and covered topics including how to plan marketing messaging for marketing materials, golden design rules for designing marketing materials effectively and how to get started with Adobe InDesign. These skills were immediately of use to the students as all of our showcasing students were provided with £100 of printing budget to produce professional marketing materials including banners, flyers, stickers etc to promote their brands.
Thirdly, a number of alumni from the programme hosted a practise session for pitching students to test run their presentations, which gave them invaluable practice time, and brilliant feedback on how they can improve their pitches.
And finally a huge thank you to our sponsors - Engineers in Business Fellowship (EIBF) and UCL Innovation and Enterprise. Their sponsorship really is incredibly helpful to our students, with the funds going directly into the startups our students work so hard to develop.
Learn more
Are you interested in our MSc Entrepreneurship? Whether you're a prospective student, an investor, or someone looking to sponsor us, there's lots of useful information on our programme page and you can reach out to us directly at mgmt-e@ucl.ac.uk.