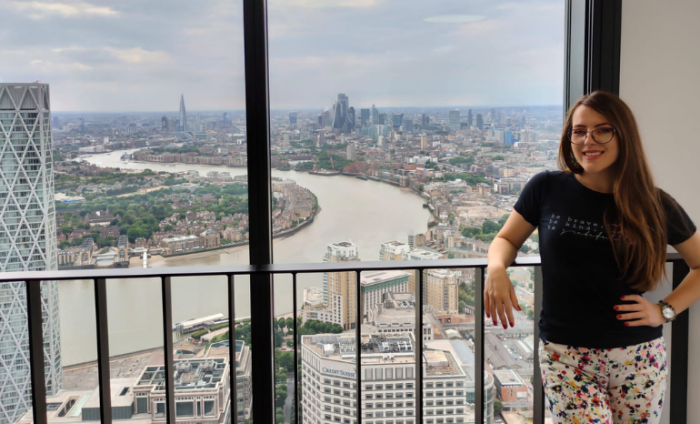 As an international student, moving to another city can often come with its complications, especially when you are a young, ambitious dreamer. You just want to live your best life and skip any potential issues that can arise during the process. For that reason, MSc Management student Aleksandra Lazarevic shares some tips that she hopes will make your arrival at UCL much simpler.
documents
First of all, congratulations! You made it - welcome to UCL! This year will be one of the best years of your life.
A fresh start in a new city can seem uncertain and scary at first, but try not to worry about it too much – everyone is in the same boat. You certainly won't be the only person wondering how everything will turn out and what your next steps are.
First things first, make sure to do your research on the necessary documents for your move. One of the main documents that you'll need is the BRP (Biometrical Residence Permit), and once it's ready, take it to the UCL Campus (the building on the right side of the entrance). Please note that acquiring your BRP can be a lengthy process so anticipate the possibility of delays. Also, make sure you have saved enough money to support yourself while you are waiting for your BRP, as without the form and proof of your student status (which you can download from your profile on the UCL Portico), you can't open a bank account in the UK.
registering with a Doctor at a GP Surgery
You should also register with General Practitioner GP as soon as possible. Usually, students register at the clinic near the main campus. But, if you live in other parts of the city, you might need to register at another NHS hospital.
Accommodation
Your choice of accommodation will depend on your personal preferences and budget; however, I would personally suggest going with student accommodation or any accommodation that UCL recommends. You can view UCL's website for more information on the UCL Halls accommodation and other recommended areas. If you miss the deadline for the application, do not panic! You can always reach out to the admin team, who will most likely send you a list of available accommodation. In my case, I chose the accommodation close to the Canary Wharf campus that was recommended by the UCL School of Management admin team.
transportation
Personally, I would recommend purchasing a student Oyster card and buying a railcard that you can connect to your student and Trainline app. This is very convenient to use if you plan to visit other cities and explore the UK. It gives you 30% off on the pay-as-you-go service, and the train tickets are much cheaper. Alternatively, if you're travelling around central London frequently, for example, between Zone 1 and Zone 2, you can add a weekly, monthly, or yearly subscription to your student Oyster card, which will also give you a discount. Also, there are bike parking slots everywhere, so you can buy or rent a bike and use it as a source of transportation. It is cheaper and more sustainable, but remember to be careful - the streets in London can get pretty busy.
social clubs
At UCL, you will never need to worry about being bored, as there are many social clubs and societies to join! You can learn more about these communities here.
If you live alone it can get a bit lonely at times, so if you find that you are bored, take a walk to the campus or to the communal areas in your accommodation to try and meet new people. Don't be afraid to make the first move and talk to your peers - if neither of you say anything, the chance to meet, talk, and make friends has already passed. Never be too afraid to meet new people, and who knows - that person might also be looking to make new friends.
study prep
Everything you need to prepare or do will be communicated to you via email or by post, so do not worry too much about administrative aspects of the programme and getting everything sorted out straight away. You might also want to consider reaching out to other students and checking to see if they have useful preparation tips for studying. Some of them may give you good advice, and it could be a great way to break the ice and make some new friends!
Food
Around the main campus at Bloomsbury, there are a lot of small shops and a student's union café where you can buy drinks and food at a reasonable price. At the Canary Wharf campus, you have plenty of choices, including Pret A Manger, PURE, PAUL's, Wasabi, Tortilla, and many other franchises besides the restaurants. I'd also recommend checking out the Canary Wharf Group website, which is dedicated to providing the latest news on what's happening in Canary Wharf, as well as recent offers on food, or new restaurants that may be opening.
other useful tips
Bring an umbrella or waterproof jacket, as the weather in London can often be unpredictable. Throughout the day, you can often experience warm weather followed quickly by cold weather, so wearing layers will always be a great idea. Also, don't forget to bring an adapter for your electronics – it is a necessity. If you cannot buy one in your home country, it should not be too difficult to find an adapter in a shop near to your accommodation. Finally, when crossing the street, watch out - the roads in London are very busy. Follow the signs on the road where it says "look right," "look left," or "look both ways."
I hope that these small tips helped and resolved some of your doubts. Should you have any more questions, please feel free to contact me via the Unibuddy Student Ambassador platform - I will be more than happy to answer any questions you might have. Good luck, and don't forget to enjoy the process!