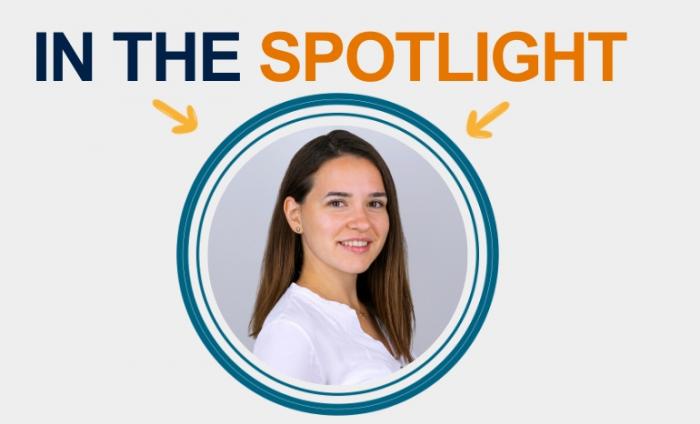 This week we get to know Ioana Buzelan, one of our brilliant postgraduate student representatives.
Tell me about your time at UCL Som
I've had the time of my life. I've been at the School of Management for five years: I did three years IMB undergraduate, a year of placement at Cisco, and returned to the school to complete a Master's in Business Analytics.
What's it like being a Student Rep for Business Analytics?
It's been great. It's nice to be the bridge between our students and staff and make it a great year for my classmates. It was nice working on planning events for the students. The Christmas Ball and Welcome Party were personal highlights - it was so great to have the whole class together and was a lot fun.
Tell us about your non-academic pursuits at UCL.
In 2015, my first year at SoM, I made the UCL Women's Tennis First Team. Since then, I have been representing the school in competitions against other universities across the U.K. My personal highlights include playing in the annual varsity match against KCL, continuing to be undefeated in singles matches every year, and captaining the First Team in my final year of undergrad.
Who is your favourite tennis player?
Naomi Osaka and Roger Federer.
Who would be your dream dinner guests?
George R R Martin, Christopher Nolan, Elon Musk - something good must come out of that meeting
Advice you would give to your younger self?
Relax and enjoy the moment more. Prioritise better. And buy some hand sanitiser, toilet paper and pasta. There will be short of supply at some point.
What is your favourite album, film, and novel?
Album - I can't pick a single album, but I am currently listening to a lot of Disney songs which are helping me through my assignments. My favourite Disney songs are A Whole New World, Can You Feel the Love Tonight, Speechless, and Spirit.
Film - Interstellar, Mr. Nobody, Forrest Gump, and About Time.
Novel - The Kite Runner by Khaled Hosseini.
What would it surprise people to know about you?
That my first public speaking presentation was when I was 17 - I presented a project to NASA representatives in San Diego.
What is your favourite place?
Where my favourite people are! Too cringe. But my most memorable is probably Faro in Portugal. It was my very first seaside holiday outside my home country of Romania. I went there with UCL tennis, and the scenery and natural beauty was amazing.