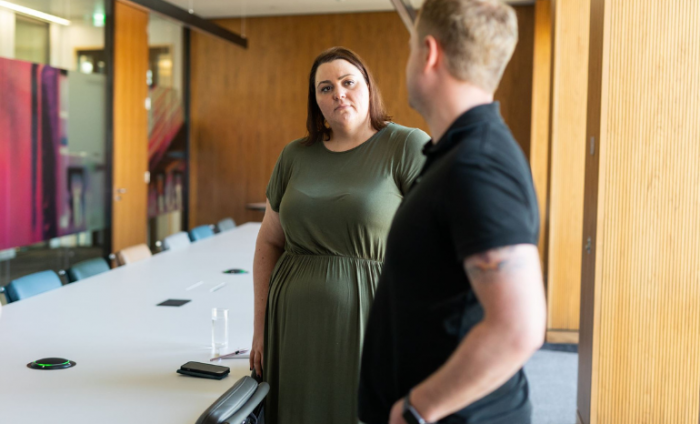 Designed to provide experienced professionals with the skills, knowledge and insights required to address complex organisational challenges and progress in their careers, the UCL MBA has recently graduated its first cohort of students. To celebrate the success of our first MBA graduates - The Founder's Cohort - we'll be sharing their stories and the paths that led them to join us at the UCL School of Management and hearing how the programme has enriched their lives and careers.
Jess's Story
Jess joined the UCL MBA in October 2019 after nine years of versatile professional experience spanning multiple fields. Spending time as a Retail Analyst for Puzzler Media, a Senior Circulation Executive for Marketforce, and a National Account Manager for Omega Pharma, Jess began her MBA journey as a Lead Media Planner and Marketing Consultant for dunnhumby. 
Jess's goal was not just to move up in her career, but to become "a well-rounded and successful general manager". She was already the Co-founder and Chair of the dunnhumby Gender Equality Network, an internal grassroots organisation that works 'to improve gender perceptions, reduce unconscious bias and improve equality in the workplace. Looking to utilise the programme's world-leading teaching, Jess joined the UCL MBA "as a critical resource to supplement my job".
After 2 years, Jess was soon promoted to the role of Media Planning Controller at dunnhumby. She attributes this advancement to the skills she developed on the programme: "I successfully achieved the role I was aiming for midway through the MBA programme. It's given me the framework to build and sustain a high-performing team, and to face into complex projects and senior leaders with confidence and a unique value-adding viewpoint."
Throughout her time on the programme, Jess has demonstrated incredible drive and engagement to get the most out of her MBA. She took advantage of the programme's extra-curricular activities and networking opportunities, and particularly enjoyed the programme-specific careers team: "I've taken huge value from the coaching and careers support, which has helped me to navigate any career headwinds and look towards all of the opportunities that are now ahead of me!". Jess also appreciated the programme's flexibility: "The online nature of the UCL MBA was key to allowing me to juggle all of my life commitments". "There were a number of classes that I joined from a café or hotel and I was able to travel to work commitments without missing any classes."
Want to learn more?
Fill in the form below to download a UCL MBA prospectus and connect with one of our admissions advisors who can discuss your plans and assist with your application.