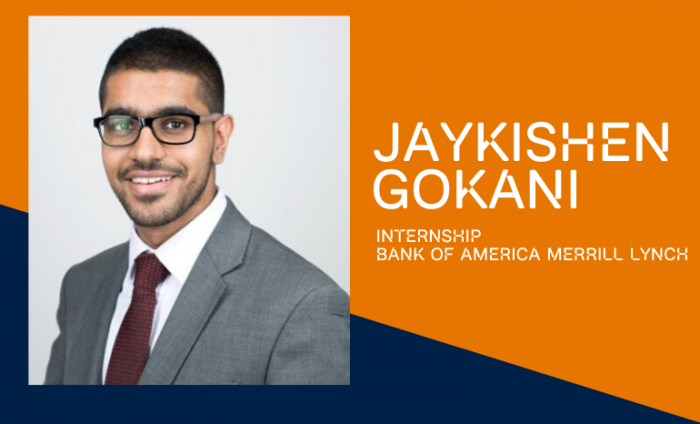 BSc Management Science alumni Jaykishen Gokani shares his experience interning at Bank of America Merrill Lynch as a part of the Management Science programme at UCL School of Management and why he thinks internships are so important for students.
Q. Why did you chose to do your internship at Bank of America Merrill Lynch (BAML)?
I completed my first work experience placement at J.P. Morgan in 2014, igniting my passion for finance which only grew during my college years. I'd also already done a spring internship at BAML during my first year at university, and they asked me to return that summer. Therefore, during the summer Internship stage, I was focussed more on the culture of the various bulge bracket banks, to choose the one most suited to the environment I wanted to work in. All of my interactions with BAML employees were very positive and it was a place I could see myself fitting into. Based on this, I accepted the summer internship offer from spring.
Q. What was the recruitment process like and how did you prepare for each stage?
The process began with a week-long assessment centre, where I demonstrated my passion and interest for Trading. I had three 1-2-1 interviews and delivered a presentation based on a trading idea (e.g. pick a stock to go long or short with a full analysis of the company and industry). The questions ranged from competency, like a time I took on a leadership role, to technical questions on pricing an equity swap. I kept up to date with global affairs and the impact on financial markets, for example if Trump tweets negatively about China during the trade war, how it could affect USD FX rates, government bonds, and perhaps even commodities. I also prepared practical examples to demonstrate my key skills, like my leadership experience as President of UCL FinTech Society.
Q. How did the internship differ from what you expected?
I expected to be spending a lot of time with different teams – whether it be through shadowing a Trader or working on a project. But I did not expect there to be so many interns focusing primarily on senior level networking, rather than actually understanding how a desk operates. If anything, this highlighted how crucial it was to strategise my time.
Q. What advice would you give to someone doing an internship at Bank of America Merrill Lynch?
It is important to divide your time carefully between learning new skills and networking to build your contacts and secure a job in the sector. This balance will likely change throughout the internship, and what works for another intern may not work for you. The optics of how you utilise your internship are also crucial for HR, as your feedback is based on desk performance (e.g. projects and presentations) alongside personal recommendations (e.g. when you meet VP's and MD's).
Q. What general advice would you give to someone applying for an internship?
Internships are an excellent opportunity to decide whether a particular career path is right for you. Don't feel that you need to have relevant prior exposure or experience to be considered. If you're interested in Finance, but have never seen the inside of a bank, that is not a reason for you to be less likely to secure a position. Most corporate firms focus on your soft skills to see if you can be moulded to a role within their firm, and whether you have shown a passion to delve deeper into an area you enjoy (this really can be anything). Therefore, I recommend that you apply to any internships that interest you. But be sure that you tailor your application to show how transferable your profile is.
Where is Jaykishen now?
Jaykishen is now working as an Equity Derivatives Trader at Goldman Sachs.
Q. What attracted you to this role?
Goldman Sachs were hiring for this specific area and it suited me perfectly. In terms of the firm, GS is one of the top banks in the world – I was confident that I would be joining a collaborative and focussed team and competitive environment that would allow me to thrive.
Q. What was the recruitment process like and how did you prepare for each stage?
I initially completed the online application along with a 300-word essay and a recorded video interview which consisted of timed questions to demonstrate my interest and fit for the firm and the role. The questions very fairly generic and can easily be prepared for. I then had informal interviews with various members of the team I wanted to join. Finally, I had an assessment day at the Head Office, with several rounds of back-to-back interviews. The questions ranged from competency, to very technical and brain teaser exercises. It is expected that all candidates are excelling in their studies. So, it boils down to the other differentiating factors you have. To prepare for my Analyst role application, I reviewed the notes from my summer internship to show I had a strong grasp of the two Trading desks I worked with. I also kept up to date with market news, had a couple of trading ideas ready to discuss, recapped examples of when I showed key skills, and heavily researched GS and its culture.
Q. What skills do you find are most relevant to your job?
A lot of the theoretical content from university degrees is not transferable to a job in Finance, unless you're studying Finance. With Management Science, the degree is extremely hands-on and practical. This helps develop a core set of soft skills that are definitely used in day to day life. The key skills I believe are Communication - this is a people industry built on networking, teamwork, many desks are interlinked and regular work across different teams is required and Time Management - there's never enough time to do everything and you need to be able to prioritise. And lastly quick mental maths - this is crucial when quickly assessing a trade in your head.
Q. How does the job differ from what you expected?
I was pleasantly surprised to be given so much responsibility very early on in my role. Within weeks of completing my training in New York and becoming FCA regulated, I was placing live trades and adding value where possible. This was very motivating during the initial period, as it allows you to practically apply new knowledge and skills you have developed.
Q. What is the most important thing you've learnt through doing this job?
There is not one aspect I would define as being the most important. But this job has definitely further moulded my perspective in terms of how I approach problems. A natural benefit of working with a group of talented individuals is to pick up key traits from each of them. I have built on my current skillset and learnt more about Equity Derivatives. If anything, I have learnt that this is a job I enjoy and can see myself pursuing for some time.
Find out more about our BSc Management Science.