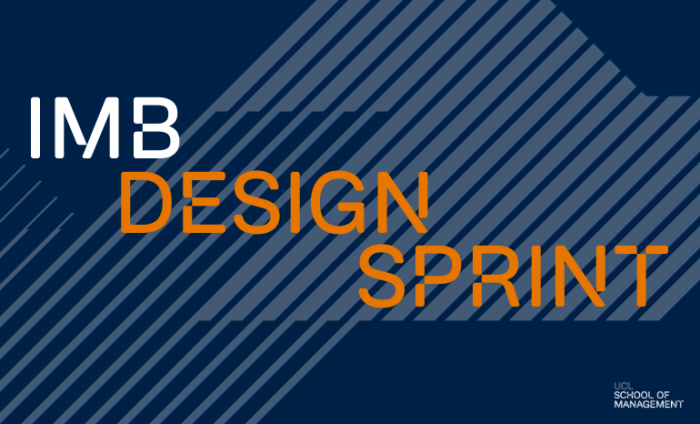 UCL School of Management's BSc Information Management for Business (IMB) students recently took part in our first ever Design Sprint where they worked in small groups on a solution to a problem in a sector of their interest.
Each group was paired with a successful IMB Alumnus to guide them through the process and share some top tips and invaluable feedback on how students' ideas would relate to their chosen industry. The Sprint was an employer lead initiative with alumni involved from companies such as; KPMG, Cisco, Seedrs, Credit Suisse and Finastra among others. It provided a great opportunity for IMB students to build the skills and experience needed to enhance their CV and support their career ambitions to work with leading companies in the industry.
The winning group of the Design Sprint Competition formed of third-year students were paired with IMB Alumni from Deloitte Digital. They identified a problem with anxiety and financial management and explored the options to better the user experience within fintech apps to help reduce the impact of mental health caused by financial issues. Below, they explain what a design sprint is, and how they came up with their winning idea.
What is a Design Sprint?
A fusion of two rather disconnected concepts that gives rise to a fascinating way of solving problems.
"Our team was similarly perplexed when we encountered the term, but when broken down, realised that it is nothing more than the sum of its parts.
"Design refers to the process of planning and envisioning a product or process. A Sprint refers to, well exactly that - to run at full speed over a short distance. When the two terms are combined, however, they create a refreshing and novel way of working in which a team aggressively tackles a problem and takes it from ideation to solution within a span of just one week. The weaker ideas are weeded out and the ones that survive are rigorously tested and evaluated to ensure that the project can be successfully adopted.
"Aided by the experience of industry experts and fellow IMB Alumni, for our group this was Tosin Ade-Ajayi a UX designer at Deloitte Digital, we were guided through this novel way of working to eventually devise a solution to a very real problem that persists in society today.
"Our team aimed to tackle anxiety and financial planning by testing radical solutions like an integrated robo-advisor and mental health-friendly app colour palettes. A design sprint is experimental in nature and embraces creativity in all its forms. It encouraged our team to really think outside the box, using tried-and-tested activities like the 'design funnel' and the 'crazy eights' methodologies to participate in a 'no holds barred' approach to product design. This burst of creativity was rather fun and showcased the power of having a diversity of thought within a team.
"At the same time, the sprint forces one to be grounded. A design sprint requires an undivided focus on realising that a core problem exists and using data and statistics to show that the problem is truly worth solving. It is a rigorous process, requiring ample amounts of user behaviour testing and feedback to ensure that the problem is well defined and that the solution is, in fact, the best solution to the problem. Our team thoroughly enjoyed this process, where we took time to survey our close contacts on their User Experience and feedback on our solution, all of which was meticulously recorded and analysed in order to enable continuous improvement - the very essence of a sprint process.
"Upon reflection, as Jake Knapp mentioned in his book entitled 'Design Sprint', the bedrock underpinning a successful sprint lies in the team. I can attest to the fact that the team that I had the pleasure of working with all had a vital role to play in the construction of our solution, with each unique perspective reinforcing and improving our product. I can say with certainty that the cohesion and diligent work produced by each member led us to win the 2020 IMB Design Sprint Challenge, one that we can not only walk away having a demonstrable project to showcase to employers but more importantly a revolutionary and refreshing way of thinking about solving problems in our world today."
Congratulations to Hanson, Rohit, Zoe, Junaid, Manas and Lucie on winning the first-ever UCL School of Management IMB Design Sprint! They demonstrated many excellent skills and their innovative idea to tackle the vicious cycle of anxiety and finical difficulties, a very topical issue in the current climate with scope for further exploration. And a special thank you to IMB Alumni, Tosin Ade-Ajayi, from Deloitte Digital for their invaluable support.