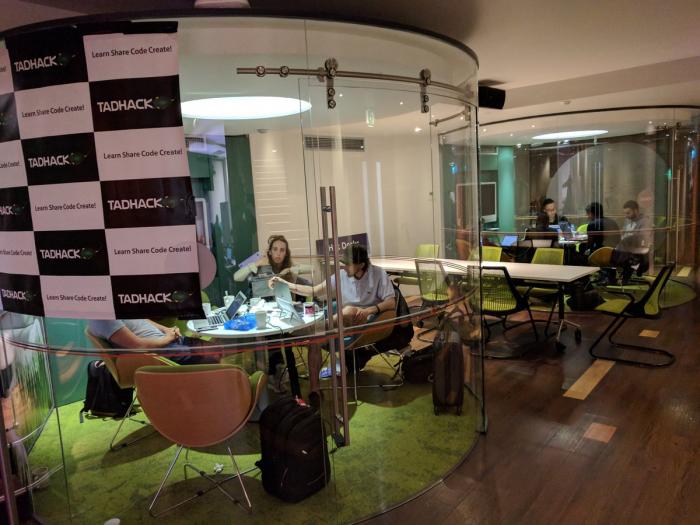 When you think of a hackathons it brings up some Hollywood stereotype like something out of the Matrix or Hackers, in reality, these events are not just excuses for nerdy looking coders to eat lots of pizza and take high quantities of sugar and caffeinated drinks for 48 hour coding sessions.

Having participated in and helped to run hackathons for the last 6 years, I have found them a fun way of learning new skills and technologies and meeting new people.

The heart of a Hackathon is about ideas, not about how good a coder or how perfectly coded the algorithms or the professionalism of the user interface. They are about forming groups of people around a new idea or concept and the journey towards getting something vaguely functional to demonstrate the concept to others.

In recent years there has been a move towards using hackathons as a means to get a community involved in solving some kind of challenge, or using technology to try to improve the lives of others in a way that conventional companies and governments do not. Hacks have grown into proofs of concept that have launched companies on the back of it or where groups of likeminded individuals have gone on to form teams and friendships in the world of work and outside. It is no wonder that some larger companies encourage their teams to participate hackathons, or run their own internal hackathons as a way to free up developers from the day to day prioritisation of core products as a way to step back and try out new concepts that are not normally done in a standard sprint based cycle. Some companies have had full products developed or redeveloped on the back of these events or have found them useful as a way for different individuals within an organisation to work together free from the traditional structures to improve communication and cooperation.
This year alone there have been a number of events related to helping to respond to the COVID-19 pandemic, with developers, data scientists and those in the health and bio-informatics space to work together to help to find solutions to the pandemic. There has been a high level of information sharing and data aggregation and open exchange of designs such as the ventilator project designed by UCL and open availability of designs for 3D printed PPE.

Hacks are a great way to make new friends and to apply and improve your own skills regardless of your specialty and to learn an appreciation of technology from those that have skills in these areas. They are a good training ground for getting the skills to function effectively as part of a multi-disciplinary team, which is becoming ever more important. Everyone has a voice and an opinion, it is not unusual for the external inputs of non-technical members that can think outside of the constraints of the way products and technology work currently to see the opportunities to do things differently or to spot new opportunities and innovations.

An appreciation for the end user and the ability to sell the concept through good story telling are a key part of any winning entry in a hackathon, the tech will be limited in it's functionality at best, usually the digital equivalent of something hung together with some sticky tape! Demonstrating the concept and what is possible is the important part as is the having fun and feeling like you have accomplished something in 24/48 hours.

Typically hackathons can run for weeks at a time now rather than an intense weekend with lack of sleep. This can be a great help, as there is more time to explore the idea and for the implementation but also for the inclusivity of the event as not everyone is able to devote an uninterrupted weekend given our busy lives and increasing complex family commitments.

There are may ways to use your skills regardless of your background, whether it is data analytics and machine learning or more entrepreneurial, there is always something to contribute and something to learn from getting involved in these types of activities, or in contributing to open source projects. These types of activities are also great for building a portfolio for a career as companies will appreciate the initiative taken.

I have recently been involved in a few hackathons, as I help to run the London TADHack at UCL and recently won a prize at COVIDathon by allowing automated legal agreements to better respond to a dynamic set of circumstances such as a pandemic in areas such as insurance and leases (more info here). If you are interested in running your own hack or finding out more about them, then please get in touch at n.roche@ucl.ac.uk.

I know we are all busy but it is sometimes good to try our skills in another domain and in a fun project that in some cases can make a difference.

If you'd like to help a charity solve an issue that they're facing in the wake of COVID-19, apply to take part in the Social Hackathons this July that is being organised by Students' Union UCL's Volunteering Service. There is also a list of upcoming hacks at https://ucltechsoc.com/#events and at social hackathon webpages. Social Hackathons are part of the UCL Listen & Respond initiative.