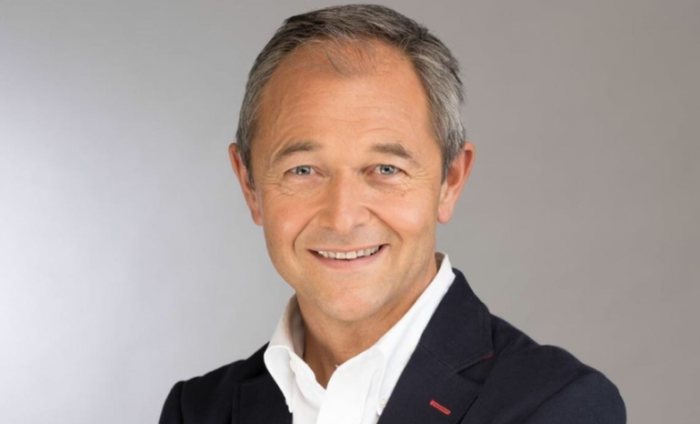 At the UCL School of Management, students are frequently given the opportunity to hear from and connect with leading voices in the business world. Recently, former Chairman of Europe for Microsoft, author and mentor, Jan Muhlfeit, was in London and joined us in Canary Wharf for a talk with our MSc Management students on the importance of positive leadership.
After the talk, we were able to catch up with Jan to learn more about his incredible career at Microsoft that involved working alongside Bill Gates, as well as the journey that led him to the next stage of his career as a global strategist, a best-selling author, and coach to some of the top-performing athletes in the world.
can you tell us about your background?
I've always been very curious ever since I was a child, and I actually used to play professional tennis, but I realised when I was 20 years old that I also really love computers. So instead of becoming a tennis coach, like I had always wanted, I studied computer electronics for my degree. During what we call 'The Velvet Revolution' in former Czechoslovakia, I then worked for the Czechoslovak Federal Ministry of Interior in the Science and Technology Section.
However, it was quite boring for someone who is very curious to be working for the state in a more administrative role, so I joined a startup and within two years we became the number 1 startup in word processing in the Czech Republic. It was during this time that I met people from Microsoft, who then opened subsidiaries in Central Eastern Europe. I joined in 1993 and worked there for 22 years.
It was a very broad career – I started in my home country of the Czech Republic and I moved on to run the centre of Eastern Europe with around 2000 staff members from 31 countries. Whilst I was running these subsidiaries, we were recognised by the company as the best performing region in the world four years in a row. Towards the end of my career, I then became the Chairman of Europe for Microsoft and remained in this position for 8 years.
Can you tell us more about your experience as a mentor and guest lecturer? How did it come about and what made you, in a sense, leave the corporate world?
Because of experiences at Microsoft, I have a lot of experience seeing how the human brain works when it is at the top of its game – when the huge success is there. But unfortunately, in 2011, I was deeply depressed and I almost died. I spent 6 months off work and spent 3 of those recovering in a mental hospital. Because of this, I also know how the brain works when you are at the very bottom. I learned so much from this experience, and now, I write books, I coach others, I teach at Universities, et cetera. I realised that, during this time, I concentrated too much on success and too little on my own health. I took care of my physical health, but not my mental health because I would stop working, but my brain would be continuing to work all the time, and ultimately, I collapsed. It wasn't because of Microsoft that this happened – it was because I hadn't prioritised my health. Nowadays, I try to help people understand who they really are to try and unlock their potential.
You gave a talk recently for our MSc Management graduates – what was the talk about? How do you think it will benefit these students in the future?
During my talk at UCL School of Management, I discussed optimal performance and the fact that, to me, optimal performance is not only about the results, but also the fact that people love what they do and feel an emotional connection to what they are doing.
I also discussed positive leadership, which for me, has nothing to do with positive thinking. I value positive thinking, but positive leadership means finding the best in you as a leader, as well as finding the best in the people around you, putting their strengths and talents together, and inspiring those people through the vision. The first book I published, entitled The Positive Leader, outlines the four 'P's of the positive leader:
Positive People, which highlights the importance of finding the best in you and the best in the people around you.
Positive Purpose, which highlights the importance of finding the meaning of your own life, and applying your strengths and skills to pursuing this purpose.
Positive Process, which highlights our four energies: physical, emotional, mental and spiritual. You will put all of these energies, through your talents and skills, into your purpose.
Positive Place, which involves finding the point at which success and happiness find a balance.
In The Positive Leader, I try to emphasise that happiness is the long-term driver for success. Many people in the business world prioritise the need to be tough, which is still important, but at the end of the day, if you like what you do and you are happy, a lot of positive hormones will be released. During my time at Microsoft, I travelled a lot and worked with Bill Gates many times, who, at the time was the richest man in the world, and I realised that the happiest people in the world are those that can make others happy through something they love. For Bill Gates, it was softwares and working on vaccines, and working in other parts of the world. Happiness is not always about you – a lot of the time, it's about making others happy through something you love.
Having worked for major corporations like Microsoft, which are often highly desirable companies for graduates, what advice would you give to students that are trying to break into these industries and companies?
Throughout my 22 years at Microsoft, I interviewed approximately 5,000 people, and people always want to know the questions that we ask candidates, and we of course reviewed their CVs, but I was very much concerned with independent thinking and how that person can overcome mistakes or barriers. In a business, if things are going well, then everyone can do their jobs. As a hiring manager, you need people that can perform when things are not going well – you need people that are able to work at a certain level outside of their comfort zone. I believe this is what hiring managers in large companies are looking for.
what advice would you give to those that are unsure of what they want to do after graduating?
If you are unsure with what your future looks like, I would first recommend finding out who you are and what you want your life to look like. In The Positive Leader, I talk about how to find the meaning of your life. Draw a circle and include your strengths are your talents, and draw a second circle that outlines activities that you love and enjoy. Where those two circles overlap, this can be identified as your 'flow'.
The 'flow' essentially means that when you reach a point of difficulty during an activity or task, you are able to persevere because you enjoy what you do. We've already touched on the idea that the happiest people are often those that are able to use what they love to make others happy, so the third circle that students draw should contain the external or social environments. When those three elements overlap, I believe it can be a good indication of the value of your life. This can often be a good starting point for those that are unsure of what they want from their future.
You've coached high-performing individuals from a variety of backgrounds, such as ceos, sports personalities and artists - are the principals the same for people in these different sectors?
Absolutely. I currently work with top-performing athletes, business people and artists, and all of these people have three things in common:
They really understand who they are. If you don't understand who you are as a person, you cannot figure out where you will go. The Alice in Wonderland analogy works really well here.
They understand what they want from their life
They are able to make decisions and use who they are to achieve what they want.
A lot of people try to copy others and be someone else, and it makes no sense. When I worked at Microsoft, I used one slogan all the time: 'be more of who you are'. You cannot change who you are, and it often takes courage to be yourself, and these principles apply to all fields and sectors.
would you say the world has changed since you were a graduate? If so, how?
There are many aspects of life that are easier for the younger generation. For example, if there is anything that students or working professionals want to learn, they can open YouTube and watch at training video from some of the most qualified people in the world in that area. That was impossible to do 25 years ago – all learning came from books. So I would encourage people to use these resources.
There is also much more competition in today's world, because the world is so global. Candidates are not only competing with people in your country, but from all parts of the world. That said, I do believe that if you work hard, know who you are and understand how to use your skills to achieve your goals, I believe that you can do whatever you want in life.
And don't be afraid of rejection – every 'no' is the beginning of a 'yes', and having a mindset of growth is essential. For those that are just going out into the job market, you need to look at yourself as a product. It might not seem all that nice, but you need to think about what you, or you as a brand, will look like. What is your story?
There is something, in my opinion, that is hindering people's careers, and it's called FOPO: Fear of Other People's Opinions, and it happens everywhere. People are afraid to make mistakes, and we are often taught to demonise the mistakes that we make. But there's a trick that I use to encourage others to remove FOPO, but it's tough. When I was 31 years old, I decided that I needed to start admitting my own mistakes – not just to myself, but publicly. If you are a leader and you own your mistakes, the people that surround you will do the same, and this is how you build a positive learning environment. People learn mostly through their mistakes, so we should embrace them and learn from them – not just put them to one side and ignore them.
You've started working on the "Unlock your Child's potential" series and coaching children - can you tell us more about that and why you started it?
In my experience, kids are very curious, creative and open. Schools, in my opinion, kill creativity, as there is very often no room for the children to ask, 'can we do this task differently?' or if they do, they will likely be met with an answer along the lines of 'no, look at the textbook for ideas'. This question, by the way, is fundamental to the minds of innovators, but we stamp it out of children at a young age. We teach children how to answer questions, and not necessarily how to create questions.
I also think it's important to show children how to disagree with one another whilst also still respecting one another. In today's society, there is a lot of tension over various different topics – should people receive the Covid-19 vaccine or not, for example – and I truly believe that if people had more understanding of who they are as a person, they would understand who others are and why they believe the things they do, and learn not to demonise a person for thinking that way. Through more self-awareness, we can build a better world for our children.
What advice would you give to your younger self? Would you do anything differently if given another chance?
I honestly wouldn't do anything differently. The majority of my life has been spent doing things that I love and I have built my career around this, and I would always encourage others to do the same.