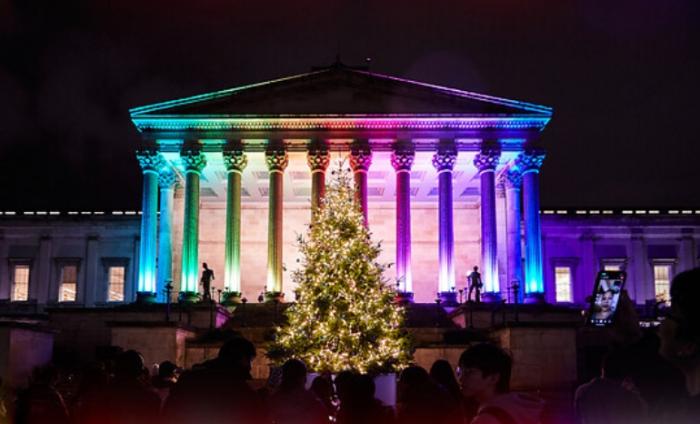 In their most recent blog, MSc Management student Aleksandra Lazarevic shares their advice for experiencing London at Christmas time. They share the best festive markets, decorations and landmarks to visit whilst in London during the holidays.
Christmas time in London is unlike any other, it is a truly magical place to be. The breathtaking decorations are everywhere, and people are joyful and festive. The Christmas markets in London are great for listening to Christmas carols, drinking mulled wine, eating good food, and enjoying a special moment with your beloved ones, or on your own. So, if you stay in London during Christmas, don't worry, because you will have a great time experiencing good vibes as you walk down London's streets and wander around the city.
I found London's Christmas decorations to be unique and unlike anything I'd seen before. Just walking down to Regent or Oxford Street, soaking up the atmosphere, sparkles and Christmas carols will make you feel like you are in a fairytale, or a Heidi movie, especially if it snows.
To get you in the festive spirit take a trip to Kew Gardens 'Christmas at Kew'. One of the most famous illuminations in London it is a classic and especially favourable to families or small groups of friends. Of course, Carnaby Street is world-famous for its iconic Christmas installations and is a must-visit. The Strand has beautiful lights set in a big shopping district, and Sloane Square is a nice place to visit during Christmas.
Christmas markets
The Christmas by the river is close to the Tower Bridge overlooking the Tower of London. There you will find wooden cabins selling fresh and warm food from all over the world, savory and sweet, handmade crafts, Christmas presents, and decorations. You may also visit Hays Gallery, which is nearby and is a great place to enjoy the festive environment.
Covent Garden Christmas Market has the most amazing decorations in particular, the big Christmas tree. It is always crowded with people shopping and watching the street performers and live music. For a limited time only in the build-up to Christmas they also get a snow machine to add to the festive feel.
The Christmas market in Leicester Square is one I would recommend, and definitely try the crepes, churros, hot chocolate, or German sausages – they are delicious. There are also plenty of small wooden stalls where you can buy presents, warm clothes, decorations, and much more. The Vue Cinema and Odeon are nearby, so after you are done with the Christmas shopping you can head inside to enjoy a festive film.
Winter Festival at Southbank Centre has shows, art and exhibitions, a winter market and DJ, music, and is host to London's iconic New Year's Eve party. This market is great for all ages and has something to suit everyone's tastes!
Besides these Christmas Markets, you have to go to Winter Wonderland in Hyde Park. It is simply magical. There are plenty of rides, food stalls, live music halls, shops, and even a circus!
Ice Skating is a popular seasonal activity in London, and the ice rinks have so-called "penguins," to help less experienced skaters. There is an Ice-Skating rink in Canary Wharf – close to our UCL School of Management campus. Somerset House also offers impressive views over the river Thames and Hampton Court Palace, which is in the London Borough of Richmond upon Thames has a large ice rink and festive market.
Also, there are many popular tourist attractions to visit during Christmas time, such as the Tower of London, Windsor Castle, and Westminster Abbey, all with a festive twist.
Make the most of the joyful time
Christmas is a unique and joyful time. People are celebrating life and the year past. London is really magical during Christmas. However, don't forget that you are also in power to create magic wherever you are. Try to make every day and every moment of your life spectacular because every moment counts. Time never comes back but passes very fast. For that reason, never spend a day without a smile, laugh, and hug. Do a good deed and lovely gesture to someone known or unknown. Also, don't forget to show the people you love you care about them every day, not only during Christmas. Buy unexpected presents, call your friends and family more often, help someone and show love and appreciation for life. Accept everything that comes to you with a smile and a positive mindset because life will give you back even more than you can imagine.
Happy Holidays! Stay warm, hug someone and enjoy the moments.