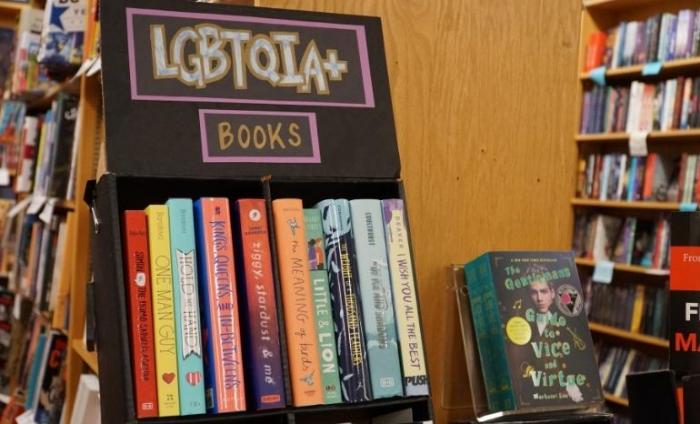 To commemorate LGBTQ+ History Month, BSc Information Management for Business student and Unibuddy Ambassador, Tsvetina Chelebieva shares her top seven books to read to learn more about LGBTQ+ History and celebrate some fantastic authors and stories in this space.
Happy LGBT+ History Month! Finding one's identity and place in the world is difficult and when a part of you is perceived as "not normal" it can be even harder to find peace within yourself. Throughout this journey, it's immensely helpful to find others who can relate and who have a similar experience, and the easiest way to do this is through reading. Below are 7 pieces of work that have helped me come to terms with my sexuality and expand my knowledge regarding gender and attraction.
Loveless, Alice Oseman
Asexuality is not very well represented in the media, but it is a valid and real sexual orientation. Loveless by Alice Oseman gives a great introduction to asexuality for people who are not well acquainted with it and is relatable for both aces (a shortened term for asexual) and anyone else on a path to figure out their identity. Friendship is beautifully depicted in the novel and will make you appreciate the friends you have even more!
Favourite Quote: "I've learnt some Things. Like the way friendship can be just as intense, beautiful and endless as romance. Like the way there's love everywhere around me - there's love for my friends, there's love for my paintings, there's love for myself."
Fingersmith, Sarah Waters
The Fingersmith is a gripping crime novel set in Victorian England. Sue, who has grown up in a family of thieves, sets out on a path to become a maid to Maud Lilly, who is bound to inherit the riches of her uncle, with the mission to trick her into marrying a conman. The novel really shines in its mystery plot filled with twists and turns, and vivid characters marginalised by society. However, the reason why Fingersmith is on this list is Maud and Sue's love relationship and its beautiful depiction. The book further explores topics regarding pornography and feminism, eroticism and the struggle of women in Victorian England.
The Korean movie The Handmaiden is based on the book and I highly recommend it!
Favourite Quote: "Once we talk of dancing. She rises and lifts her skirt, to show me a step. Then she pulls me to my feet, and turns and turns me; and I feel, where she presses against me, the quickening beat of her heart - I feel it pass from her to me and become mine."
Heartstopper, Alice Oseman
Another work by Alice Oseman, this time a graphic novel, Heartstopper will fill you with heartwarming moments. The novel follows two high school students, Charlie and Nick, who quickly become friends and eventually lovers. The chapters follow the blooming of their relationship and the struggles each faces such as coming out, mental illness and hardships surrounding friends.
The art style, albeit simple, is full of expression.
Favourite scene:
Orlando, Virginia Woolf
Virginia Woolf and Vita Sackville-West had an ongoing romance that inspired the creation of the character Orlando. However, the book is far more layered than just a portrayal of Vita. The novel follows the life of Orlando over several centuries giving us a glimpse of England under Elizabeth's rule, Constantinople and ends in 1928 when the Equal Franchise Act was introduced, giving women the right to vote. It is in Constantinople when Orlando awakes as a woman and the novel begins exploring the fluidity of gender and sexuality.
Under its lighthearted and fantastical elements, Orlando offers an escape into the freedom of gender expression while highlighting how restricted this expression is under a patriarchal society.
Favourite Quote: "Change was incessant, and change perhaps would never cease. High battlements of thought, habits that had seemed as durable as stone, went down like shadows at the touch of another mind and left a naked sky and fresh stars twinkling in it."
Bloom Into You, Nio Nakatani
Fetishisation is ubiquitous in the lesbian manga, but with a few exceptions. Bloom Into You is one of them with a gentle story focusing around Yuu, who has always dreamed of falling in love, and Touko, the Council President. When Touko professes her love for Yuu, the student is confused. Her feelings do not match the sweeping all-encompassing love described in books and Yuu embarks on a search within herself to realise the meaning of love.
Favourite Scene:
Life as a Unicorn: A Journey from Shame to Pride and Everything in Between, Amrou Al-Kadhi
Life as a Unicorn: A Journey from Shame to Pride and Everything in Between is the textbook definition of a hard-hitting memoir. It follows Amrou from being a lost child discovering his sexuality and how being Muslim fits (or rather doesn't) into that to figure out his life as a teenager plagued by self-hatred. As an adult Amrou still struggles to fit in and is unsure of his way but ultimately enjoys being Glamrou (his drag name). His journey is long and hard but it does get better and that is always nice to see.
The audiobook is narrated by Amroud Al-Khadi himself, and I would highly recommend it!
Favourite Quote: "I was desperate to present as transgressive, but also to be entirely accepted within spaces that were anything but that."
Love Poems/ Haruko, June Jordan
June Jordan is a writer committed to political activism and human rights. Jordan explored sexual freedom through her bisexual experiences, feminism and race in her essays and poems. In her collection of poems Haruko/Love Poems she reflects on over twenty years of love and heartbreak. The first section of the book revolves around her lover Haruko. The second part is more political and general.
Favourite Quote: "I would not long for heaven or
for earth
more than I'd wish to stay there
touched
and touching you"
This list is just a taste of LGBT+ literature. Further writers that might be of interest are Adrienne Rich, Frank O'Hara, Audre Lorde, Langston Hughes, Yukio Mishima, Patricia Highsmith.